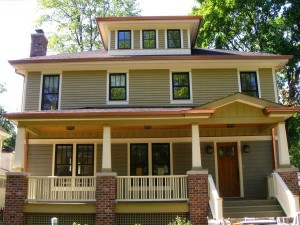 When it comes to rain gutters, there are many materials for homeowners to choose from. Most opt for basic vinyl or aluminum as an easy solution for their needs. Some homes, especially historical or higher end properties, could benefit greatly from copper rain gutters. Unfortunately many don't even consider this option because they think it is too expensive to install and out of their reach. While cost is a factor to consider, it shouldn't be the only one. It is important for gutter contractors to inform their clients on the many key benefits a copper rain gutter system can provide. Only when they have all the facts, can they make the right decision for their home.
Here are 4 key benefits of a copper rain gutter system:
1. Durability Beyond Measure
Copper rain gutters are extremely durable. They are suitable for any region and can easily handle many extreme temperatures ranging from subzero winters to blazing hot summers. Copper is also one of the few gutter choices available which are resistant to rust.

2. Beautiful Finish
Many homeowners also enjoy the beautiful finish that copper provides. Copper naturally patinas over time achieving a unique, weathered look in just a few short years. This creates the rustic, yet elegant exterior that homeowners love. Copper also adds a more custom look to the building. Because most people choose vinyl or aluminum for their siding needs, homes with copper installed stand out from the rest of the properties in the neighborhood.
3. Smart Investment
When installing a copper gutter system onto a home, you can expect to enjoy the system for many years to come. In fact, most copper systems can last up to 100 years. When compared to the 10-20 year lifespan of the typical vinyl system, installing a copper gutter system can be a smart investment into the property while also saving the homeowner from high replacement costs in the future. Keep in mind that installing copper options also increases the value of the property when it comes time to sell.
4. Less Maintenance
A copper rain gutter system requires little maintenance. While they still need to be regularly cleaned of leaves and debris, they rarely sag or need replacement. Due to the nature of this material, it is important to hire a professional contractor to properly install any type of copper gutter system. Doing so will allow the homeowners to enjoy a system that looks as fantastic at fifty years old as did when it was first installed.
Whether your customers are completing a historical renovation or simply want their homes exterior to make a statement, a copper rain gutter system can be a beautiful long-lasting option. When ready to complete the work, visit GutterSupply.com for all of your copper rain gutter products. We carry everything needed to complete the job from downspouts and elbows to fasteners and brackets. We also have a wide selection of copper ornamental pieces like gargoyles and gutter medallions to give your customers that finished look. Visit our online catalog to browse one of the largest online selections of gutter tools and supplies.