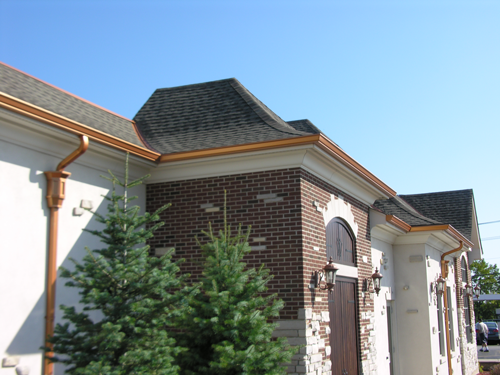 Copper gutters can add a distinctive look to any home's exterior.  As a premium gutter material option, copper creates a custom, high end appeal for any home it adorns.  It is also one of the most expensive choices when it comes to gutter installation.
Because of the initial investment cost, homeowners want to make certain the material is handled with care and is properly installed.  They want their system to last for decades free of problems.
Because of its composition, it is important to take special care when working with copper.  Doing so will protect your investment while also ensuring a lasting, beautiful finish.
Here are 5 expert tips for working with copper:
Always Wear Gloves – Oil, salts and acids on your hands can wreak havoc on unprotected copper leaving fingerprints and smudges anywhere you touch. That's why it's important to wear gloves when handling copper. Try these Copper Wonder Gloves for a tight grip without the unsightly smudges.
Stay Consistent with Accessories – Copper is a material that stands out. It is a distinctive choice that people really notice. Do not try and combine aluminum products with copper products. The two metals are dissimilar and will react negatively with each other. Because of this, it is always in your best interest to stay consistent with your look and use only copper accessories for the rest of the system.
A Good Soldering Iron Helps – To keep your system leak free, the seams need to be soldered well.  There are many good soldering iron kits on the market today to help you get a leak-free finish.  The kits range from basic to expert depending on your unique needs.  At GutterSupply.com we carry a complete line of soldering irons along with all the soldering accessories you need to complete the job.
Finish the Joints – If gray solder joints are ruining the look of your finished product use Super Brite to turn the joints from an unsightly gray to a shiny copper.  Simply brush it on the areas that need attention and you will notice a complete transformation in mere minutes.  What's left is a seamless look you can be proud of.
Use a Good Metal Polish – Sometimes you want your copper gutters to shine like they did when they were first installed.  Or maybe you got a few fingerprints on them during the installation process.  A copper polish can help make it new again.  It safely removes tarnish, hard water stains, fingerprints and more from copper surfaces.  GutterSupply.com is proud to carry the Weiman Metal Polish.
Whether you are a homeowner attempting to do it yourself or a well-established contractor with years of experience knowing the best ways to handle your copper gutter install is important.  Giving it the care it needs will ensure you end up with a quality system built to last.  If you are looking for a partner with all the right tools and supplies you'll need for the job, GutterSupply.com is here to help.  With thousands of products in stock daily, we cater to anyone wanting a professional finish to their gutters at an affordable price.  Explore our huge selection of copper gutters, downspouts and accessories today.  Visit us at www.guttersupply.com.