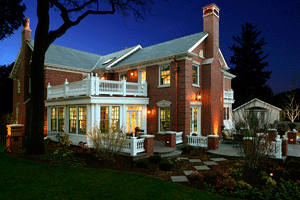 Whether you already own a home or are building a new one, at some point, you will likely need to make the tough choice of choosing a new gutter system. Although not as exciting as a stunning kitchen remodel replacing a worn, dated gutter system is essential to keeping your home safe from water damage. Gutters perform the important function of safely draining excess rain water away from the home. This prevents the water from pooling around the property causing problems to the foundation, roof and more.
K-Style or Half-Round, aluminum or vinyl, seamless or traditional. When it comes to choosing the right gutter system for your home, the possibilities can seem endless. An easier way to discover the right option for your unique property is to look at the individual benefits each type of system has to offer. Most homeowners want a system that is easy to maintain offering strong performance while complimenting their existing home. Other factors to consider are gutter style, return on investment and future maintenance needs.
Durability & Performance
There are many durable and high-performing gutter options on the market today. The materials you choose will have a big impact on how well it performs and how long you can expect it to last. Choosing an option resistant to corrosion can be a smart choice for those wanting last appeal.  Aluminum, vinyl and copper all hold-up well over time. Other materials such as steel offer high performance but may be more prone to developing rust.
Color & Style Options
While strength and durability may be important so is the attractiveness of the gutters you choose. Most homeowners want a system that not only works well but also looks good. You'll want to consider the curb appeal of any gutters you're considering. Copper is typically consider the choice material for higher-end and historic homes. Aluminum is the popular choice for the masses as it comes in many colors to fit any style and color of home. Some gutters can be painted to match the exterior such as steel and vinyl.
You will also want to consider the style of gutter. K-Style gutters are the most popular option but half-rounds can also be a good choice for the right home.
Future Maintenance Needs
When remodeling any aspect of the home, you always want to consider future maintenance needs and requirements. If you don't mind the extra work, it may not be a big factor but, for some, ease of upkeep is crucial. Fortunately, most newer style gutters are easy to maintain. Vinyl requires little maintenance to consistently flush the rain water away. Galvanized and/or Paint Grip Steel will require basic upkeep as they are prone to rust. Copper systems will naturally patina over time unless you apply a sealant to avoid oxidation.
Return on Investment (ROI)
When it comes time to sell your home, you want to know that the gutter system you chose added value to the property. A system's return on investment value is also a factor to consider. While most functioning systems will add value regardless of the material you chose, you want to make sure the choice looks good and matches the rest of the exterior. Pricier options such as copper can be a great investment for your home as it costs more at the time of installation, however the durability and longevity of the system make up for the initial cost. Copper, if properly installed should last upwards of 75 years! Regardless of the type of gutter you purchase, replacing ones that are damaged or worn automatically increases the value of your property to potential buyers.
Regardless of the type of gutter system you chose, it is important to only use quality, professional-grade materials. It's easy to find the right materials for the job when you shop with GutterSupply.com.  Serving both contractors and homeowners across the U.S., we offer the largest selection of gutter products you'll find anywhere online. Visit us here to learn more about the large selection of gutter materials and supplies GutterSupply.com has to offer or contact us at 888-909-RAIN.