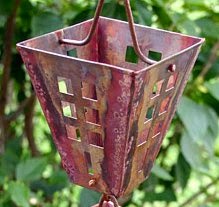 It has long been known that the Japanese people are experts at creating relaxing, harmonious sanctuaries inside their homes. For hundreds of years, traditional Japanese homes have incorporated the melodic, soothing sound of rain water into their living space using what is known in their culture as "kusari doi" or rain chain. They show their respect to Mother Nature's gift by capturing this water into barrels reusing it throughout the home.
Since their humble beginning centuries ago, rain chains have become a decorative alternative to the traditional downspout throughout most of the modern world including the United States. Homeowners have embraced both its utility and beauty using it to channel the rain water away from their homes. They have discovered the wonderful benefits of this ancient downspout and have embraced the function and style it adds to their living space. Read on to learn more about the many benefits of installing a rain chain onto your home's gutter system.
Here are some reasons why homeowners love rain chains:
Rain chains add ambiance to the outdoor living space.
Few things are more soothing than the sound of soft rain drops falling gently onto a metal surface. The calming effects of a rain chain are undeniable offering a relaxing environment in which homeowners can enjoy the wonders of their own backyard.
Rain chains are a stylish alternative to the traditional downspout.
Many homeowners have the desire to add a distinctive appeal to their home's outdoor space. Rain chains offer the unique opportunity to showcase your personal style while also serving the important function of assisting the gutter system in draining rain water away from the home.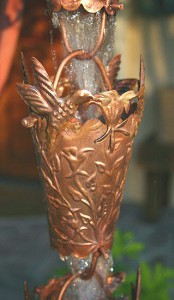 Rain chains come in many materials and designs to fit every unique taste.
Rain chains come in many of the common materials that gutters do. Some popular finishes are copper, brass, and aluminum. There are also many design styles to choose from. There are cup rain chains, link rain chains, and even loop rain chains just to name a few. Some are even hammered with an intricate design such as a hummingbird or grapevine. There are also many accessories that can be added to further enhance its appeal. Water-catching basins or dishes are popular additions to the simple rain chain.
Rain chains are easy to install and use.
For many homeowners, it is not only important to install features around the home that are beautiful but also easy to use. Rain chains require very little maintenance and are simple to install. At GutterSupply.com, we offer a rain chain installation kit to ensure that each of our customers are able to expertly install their new chain.
If you are looking for a reputable rain chain supplier look no further than GutterSupply.com. We carry dozens of rain chains in many styles and finishes sure to match any type home. From the traditional cup style chain to a unique lily chain, our selection offers the quality you want at the most competitive prices you'll find anywhere online. To add further value, GutterSupply.com is now offering our valued customers 25% off select rain chains and accessories! This promotion is only available while supplies last so make sure to visit our website today. As the nation's leading online gutter supplier, GutterSupply.com is proud to offer the quality products you want at the best prices around.