Every property owner needs a way to safely and effectively move the rainwater away from their gutters, roof and home. The traditional downspout is often the first solution we think of to do the job. But what if there is a more attractive yet effective solution? A beautiful rain chain is that solution.
Although they may seem trendy, rain chains are nothing new. Their origins run deep as a staple in Japanese homes for hundreds of years. In Japan, they are known as "kusari doi" which translates to "rain gutter." Only over the last couple decades have these Asian decorative feature become popular for American homeowners looking to add style and interest to their outdoor space.
What are rain chains?
While they may sound complicated, rain chains are fairly simple in both design and application. The chains are attached to the end of a gutter spout to gently guide the rain water run-off from the roof. They often feature hollow cups or links that create a soft, soothing sounds as the water hits them. Rain chains are also easily incorporated into a water reclamation system when combined with a cistern or rain barrel.
Benefits of Rain Chains
There are many benefits to installing rain chains including:
– Effectively capture the rain water run-off from the gutter system
– Are cost-effective and easy to maintain
– Come in many materials and styles to flatter any style home
– Add value to the home by increasing its curb appeal
– Can accentuate the existing architecture of a structure
– Can be more attractive than a traditional downspout
– Compliments the existing gutter system
– Allow homeowners to showcase their unique style on their home's exterior
Tips for Easy Installation of your Rain Chain
Another reason why so many homeowners are choosing rain chains over traditional downspouts is their easy installation. In most cases, it can be done without any tools. Some rain chains feature a hanging hook that is simply attached to the gutter system. For a more permanent installation, GutterSupply.com carries affordable Rain Chain Installation Kits to match most gutter system types. Some rain chains can also be shortened or lengthened depending on the desired height. Regardless of how you look at it, most find installing a new rain chain much easier than the standard downspout.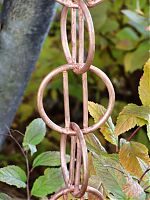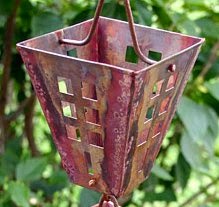 If your downspouts are worn and in need of replacement consider transforming your outdoor space with beautiful and distinctive rain chains.  GutterSupply.com offers one of the largest selections of rain chains and accessories.  As the foremost leader in the gutter supply industry, we offer the best quality in rain chains you will find anywhere online.  To extend further value to our customers, we are currently offering 25% off select rain chains.  Visit our site to find your perfect match as prices are only good while supplies last.  Visit our website to learn more about our large selection of rain chains or contact us at 888-909-RAIN.