A home's gutter system performs the important function of funneling rainwater away from the home's foundation and leading it safely to the surrounding ground for absorption.
A home without a proper gutter system can sustain many issues including cracked and damaged foundations, flooding into the home or basement, mold growth, and more.
Many homeowners will experience gutter problems at some point during the ownership of their home.
Some may be easily fixed by the homeowner themselves while others may require professional help.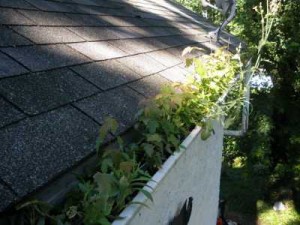 Here are some of the most common gutter problems and smart solutions to remedy them.
1. Sagging Gutters
– Sagging gutters are not only a nuisance to the home but also unsightly.
The cause of this problem is often the hangers used to support the gutters.
Over time these hangers can deteriorate or lift away from the home. Some may have even been spaced too far apart during installation.
Replacing them is often the best solution to a sagging issue.
2. Gutters Pulling Away from Home
– Many homeowners begin to notice their gutters pulling away from the frame of the house.
Although not uncommon, this problem can make your gutters weaker and more prone to damage from heavy storms. While the source of this issue is often faulty installation, there are ways to remedy the issue.
Many professionals suggest rehanging the gutters properly and testing for adequate drainage.
3. Leaks or Holes
– Few things are worse than a leaky gutter system.
Leaks often occur near the gutter joints.
If small, they can be easily fixed by sealing the area with caulking.
Smaller holes can be filled with gutter sealant.
Larger holes may require the installation of a patch to secure the area.
4. Improper Pitch
– To successfully drain water away from the home's foundation, the gutters must be properly pitched.
Industry standards suggest at least a quarter inch pitch every 10 feet.
If sagging, clogging, and leaking issues have all been addressed and the gutters still have standing water in them then the gutter is likely improperly pitched.
Sometimes the gutter can be simply pushed back into place and others times it needs to be rehung.
5. Clogged Gutters
– Clogged gutters are one of the most common complaints contractors run across.
When gutters become filled with leaves and other debris, they are less able to efficiently funnel the water away.
Gutters must be cleaned on a regular basis to keep the space clear and open.
6. Animal Infestation
– There are many types of critters that take refuge in gutter systems.
Squirrels, birds, insects, rodents, and even snakes can all quickly become a nuisance when they begin infesting a home's gutter system.
The animals must be removed to prevent damage to the area.
A professional expert in the field can help relocate the pests or offer extermination services.
GutterSupply.com is the leader in online gutter supplies and materials.
We are dedicated to keeping both professionals and homeowners educated on the best practices for gutter installation, maintenance, and repair.
To view our large inventory of quality products visit
our website
or call us at
888.909.7246
to learn more
.