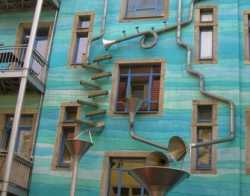 The Hardware Aisle over at This Old House has a terrific item about these Rube Goldberg-style rain gutters installed on a house in Germany. The rain runs down a water ladder and even flows through trumpets that play a tune.
I just wonder what the neighbors think.
Read the full story at This Old House.