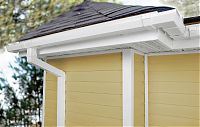 When shopping for a quality gutter system, homeowners have more material options than ever before. From aluminum to copper to galvanized steel, there are many different styles and types to choose from. One type of gutter material that is becoming increasingly popular is vinyl. Many homeowners are turning to vinyl for a durable, long-lasting solution to the gutter needs. Read on to learn everything you need to know about vinyl gutter systems.
Style Options
At GutterSupply.com we offer vinyl gutters in two different styles: Traditional and Contemporary (U-shaped). The traditional option is available in 5" K Style and the contemporary in both 4" and 5" K Style. Our catalog also includes a fully-coordinating line of accessories for both. These styles are available in both white and brown.
Longevity
Because vinyl is not prone to rot or rust, homeowners can expect their new gutter system to last for years to come. It is not unusual to see a vinyl gutter system that is 20+ years old. In fact, the vinyl gutter products GutterSupply.com carries come with a limited lifetime warranty. Visit our website here to learn more.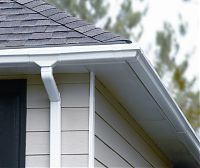 Pricing
Vinyl systems offer a low-cost solution to a home's gutter needs. Many homeowners may opt for vinyl as a more budget-friendly alternative to higher-end copper. It also helps save on the cost of replacement as the system typically lasts for decades.
Durability
One advantage to installing a vinyl gutter system is its strength and durability. Vinyl will not dent or crack and is not prone to rusting. Composed of strong vinyl resin, this gutter system is scratch-resistant and keeps its attractive appearance long after installation. It is a premium material built to withstand extreme temperatures and environments.
Leak-Free Seals
With vinyl, homeowners can be less concerned of having a leaky system to tend to. Vinyl gutter systems feature a urethane seal lessening the likelihood of leaks while offering a lasting solution to a home's water run-off needs.
Maintenance
When looking for a virtually maintenance-free solution many find vinyl to be the answer. Vinyl gutters require very little maintenance and upkeep. They are easily cleaned and rarely need to be adjusted. Since they don't tend to fade or rust, you can also expect your vinyl gutters to look great for years to come.
Installation
Many professionals find vinyl gutter systems easy and simple to install. There is no need for specialized tools or sealant and installation can be completed in as little as one day. Although professional installation is always recommended, many homeowners appreciate the quickness and ease in which their contracting partner can complete the work.
At GutterSupply.com, we are committed to providing the quality gutter products are customers have come to expect. We offer one of the largest selections of gutter tools and supplies anywhere online along with the best customer service and support. If you would like to learn more about the vinyl gutter products GutterSupply.com carries, click here or contact one of our expert sales professionals at 888.909.7246.