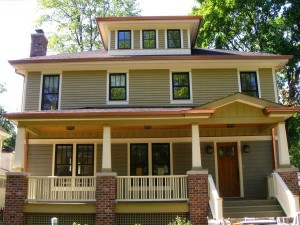 Your home is probably one of the most important assets you own. It's your refuge, your sanctuary and a representation of your personal taste. You want it to look great and stand out from the rest of the neighborhood. To give your home that custom, prestigious look that will make your neighbors jealous consider installing a copper gutter system.
Copper gutters add curb appeal.
Copper is one of the most premium options for homeowners looking to increase their home's curb appeal. Other than gold, copper is the only metal that has a natural color to it offering a truly unique look to the gutter system. Over the years, the copper will turn to a classic, beautiful patina giving any home that extra pop of color. Copper gutters also greatly enhance a home's architectural appeal and design. When paired with matching accessories and downspouts, a copper gutter system can give your home that "wow" factor that sets it apart from the other properties in the neighborhood.
Copper gutters offers time-tested quality.
A copper gutter system is more than just a pretty face. As one of the strongest options available, this metal not only looks great but is also extremely durable. Lasting for decades, copper gutters will not rust, wear or corrode ensuring your investment is protected. Its soldered seams create a truly seamless gutter system avoiding many of the common problems other systems experience such as sags, leaks and clogs. It is also virtually maintenance free and never requires painting.
Copper gutters create lasting value.
Installing a copper gutter system can also be a great investment into your home. This type of system instantly increases the value of the property while making your home more marketable in the future. Since copper gutters will last for years to come, this addition can add significant worth ensuring you can list your home at a higher asking price when it comes time to sell.
But aren't copper gutters too expensive?
A copper gutter system will cost more than other alternatives such as vinyl and aluminum. This cost though is offset by the value it adds to the property as well as the length of which a copper system can last for. While an aluminum system may need replacement in 20 years, once installed, a copper gutter system can remain functional for a lifetime. You can also further reduce its expense by purchasing your materials from a reputable online supplier such as GutterSupply.com. We offer competitive pricing on all copper gutters and accessories making this option more affordable than ever before.
When considering a copper gutter system, you must ask yourself if you truly want the best for your home. If so, this premium option may be right for you. To explore the copper gutter options GutterSupply.com carries, visit our website here. You will discover one of the largest selections of copper gutters, downspouts and accessories found anywhere online. At GutterSupply.com, we promise to always carry the finest quality gutter products at some of the best prices around.