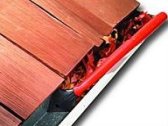 Use the Gutter Grabber to pull gutter debris toward you, and then you can scoop it out with a Gutter Getter scoop. It will decrease the time of cleaning out your gutters in half.
The Gutter Grabber blade shape digs into the corner of the gutter and lies flat against both the bottom and the side to give a more efficient cleaning for your gutters. Attached to any standard threaded extension pole, the Gutter Grabber allows you to extend your reach and really cuts down on ladder movement.
Look at all these features that the Gutter Grabber gives:
- Attaches to any standard threaded extension handle
- Sturdy, polypropylene construction
- Curved neck reaches over and under gutter hangers - even works well with gutters with overhanging shingles from repeated re-roofing
- Tip digs into the gutter's corner while the flat sides thoroughly clean the gutter
- A Sleek and Slender design lets you reach into even very narrow gutters
- Easy clean up
- The Hook lets the tool hang conveniently from gutter while you change positions or scoop debris out
- Works great with the original Gutter Getter scoop!