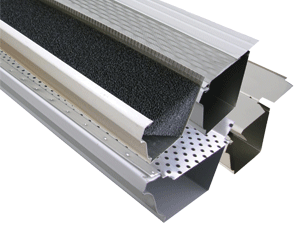 Is your gutter business ready to expand? Do you want to increase your sales and revenue but don't know how? If so, adding gutter guard installation and maintenance to your service list may be the answer.
The gutter guard business can present the perfect opportunity for growth for contractors looking to expand their services. The industry has seen a recent uptick in homeowners looking to protect their existing gutters from excess leaves and debris. Since many of the skills needed to accomplish gutter guard installation are similar to that of the gutters themselves, the transition can be easy to do with little risk.
How to Get Started
To get started in the gutter guard installation business you need a couple of things: the right tools, supplies, technological knowledge on correct installation and maintenance practices with familiarity on local and national codes.
When purchasing new tools and supplies, it is important to only shop from reputable suppliers. GutterSupply.com makes it easy to find professional-grade materials at competitive prices right online! We carry thousands of quality products for everything from basic installations to custom jobs. Our catalog includes some of the top brands in the gutter guard industry ensuring you receive the best the market has to offer. We also extend to our contracting partners special pricing as well as technical support for any questions that may arise. Registered contractors even have access to free customized sell sheets to assist in the sales process.
For help with growing your gutter guard installation and maintenance knowledge, it is important to learn from the best. The National Rain Gutter Contractors Association (NRGCA) can be a helpful resource for those starting in the industry. Their site offers materials on how to best install and maintain gutter guard systems as well as information on rain gutter codes. This site also offers helpful business-related resources to get you started. You can also visit the GutterSupply.com website for our vast library of articles that cover many gutter-related topics from choosing the right gutter guard style to information on correct gutter sizing.
Not in the Gutter Business?
For those not currently in the gutter business, there are many ways for you to grow your revenue as well! Adding gutter and gutter guard installation and maintenance to your list of services can be an easy switch. Here are some types of businesses that could benefit from adding gutters to their service list:
– Roof Installers
– Siding Installers
– Chimney sweeps
– Landscaping companies
Whether you are just starting out in the business or have been around for years, growing your gutter guard installation and maintenance revenue begins and ends with having the right partner on your side. Since our humble beginnings in 1964, GutterSupply.com has been that partner to thousands of customers across the nation. From small business owners to large commercial contractors, we work with each of our clients to provide the right gutter supply products and supplies they need to finish the job. Learn more about our contractor program by visiting us here.