is the Only OSHA Certified Standoff for Direct Roof Placement
---
Leaning an extension ladder against house gutters is a common practice. As you well know, this is not only unsafe; it leaves dents, scratches and the creases in gutters for years to come.
---
Ladder-Max is the first ladder stabilizer to be certified for roof placement. Placing your Ladder-Max against the roof will avoid damage to gutters, eaves, overhangs and metal siding. Your ladder will never damage your gutters again.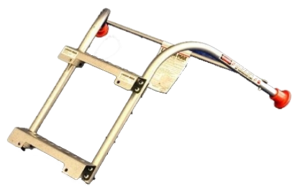 A GREAT TOOL FOR TRADESMEN FOR ANY JOB THAT REQUIRES AN EXTENSION LADDER!
---
Increases the stability of your ladder. Ladder-Max
---
Improves access around overhangs and windows.
---
Protects gutters, roof edges, fascias, siding and paintwork.
---
Provides a more comfortable and effective work angle.
---
Attaches to and from ladder in seconds.
---
This is a professional grade stabilizer. No other stabilizer on the market can compare to the benefits and features offered by the Ladder-Max.
---
Made of steel, the Ladder-Max provides the strength required to handle a true work load.
---
Ladder-Max's 19 inches of standoff lets you stand at a natural position. You can reach further with less effort. (Our competitors' products offer a maximum of 10 inches).
---
Designed and certified for roof placement, Ladder-Max will reduce your business liability by eliminating the need to lean the ladder against eaves, gutters or roof edges. Our competitors' products are for wall use only.