Freedom Gray Copper / Freedom Gray Copper Gutters
Tin/Zinc Alloy Coated Copper

Freedom Gray Copper is a proprietary finish with a special alloy. It is standard architectural copper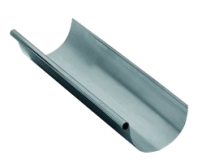 produced in accordance with ASTM B370 that has been coated both sides with a proprietary tin/zinc alloy. Although the coating contributes to the product's excellent corrosion resistance, it is applied for aesthetic purposes only. The finish provides a soft earth tone gray color that you will notice with Freedom Gray Copper. The tin/zinc-coated areas will prevent the substrate copper from oxidizing and producing green patina stains normally associated with uncoated copper. However, like other gray metals Freedom Gray Copper can produce a gray or black stain on light colored masonry and unpainted cedar shingles.
---
As with any naturally aging product, the color or aesthetics of Freedom Gray Copper Gutter may be subject to the effects of runoff and leachate from other building products. In particular, organic acids from cedar may result in dark discolorations; runoff from copper-plain or prepatinated- may attack the coating and cause uneven weathering. Concentrated flow, runoff from slate or tile roofs, and/or impingement caused by water dropping from a higher roof onto a lower one may also affect aesthetics of Freedom Gray Copper.  In most cases this is little more than uneven initial weathering that corrects itself with time.
---
Aesthetics of Freedom Gray Copper Gutter:
---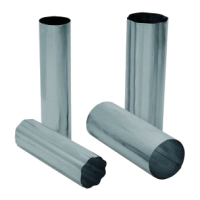 When Freedom Gray Copper is first installed there may be aesthetic differences between adjacent panels or pieces. Some may appear darker than others and/or there may be non-uniform patterns, textures or lines. This can cause concern regarding the quality of the product and long-term appearance of the structure. Following is an explanation of why such differences may occur and their long-term effect.
---
Freedom Gray Copper is supplied with a non-reflective temporary, gray, factory applied pre-weathered finish. The purpose of the paint is to:
---
  -  Reduce the initial reflectiveness of the tin/zinc alloy coating.
  -  Provide a natural, weathered appearance to new installations of Freedom Gray Copper Gutter.
  -  Minimize the possibility of "white rust" corrosion during storage and transit of unformed sheets and coils.
---
With Freedom Gray Copper the paint is applied in a "semi uncontrolled" manner to assure that some of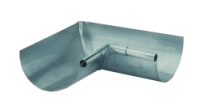 the surface is covered and some not. The uncovered (or exposed) tin/zinc alloy begins to weather and darken immediately upon exposure. With Freedom Gray Copper the covered areas undergo little or no color transformation until the paint is removed by the weathering exposure. It is important to understand that the paint is a transitional coating and is not permanent. As the tin/zinc alloy is exposed any initial differences fade and disappear.
---
With Freedom Gray Copper the time required for the paint to breakdown and be replaced with natural patina depends upon local environmental conditions and severity of exposure. Usually with Freedom Gray Copper most of the paint is weathered from roofs within 3 to 5 years. Vertical wall panels or surfaces are not subjected to the "erosive" forces of flowing water, sliding snow and ice, etc. With Freedom Gray Copper Gutter there might have a result which might take longer for it to break down and be removed.
---

Freedom Gray Copper is a natural material that develops natural patina. Just as with plain and prepatinated copper there will always be differences in shades and hues. As with Freedom Gray Gutter these are not an indication of defective material and they are not a reason to reject the material. In many respects it is the variations that give Freedom Gray Copper its unique life, vitality and aesthetics. Aesthetics that cannot be achieved with painted steel or similar metals. In Freedom Gray Copper Gutter the Z-T alloy is applied to the copper substrate on both sides with a coating thickness of approximately 0.5 mils. The alloy is a composition of approximately 50% tin and 50% zinc.
---
Handling and Storage of Freedom Gray Copper:
---
Store sheets, coils and formed products off the ground, in an enclosed structure. With Freedom Gray
Copper Gutter do not store in a manner or location so that water or moisture may remain between sheets or shapes prior to installation. Do not store on bare ground under a tarp or in other manner that may cause condensation to form on or between sheets or shapes. In the absence of oxygen, standing water may cause water stains. With Freedom Gray Copper watch for water stains and scratches should not affect the life or durability of Freedom Gray Copper; however they can be aesthetically unattractive.  Handle carefully in a safe manner to avoid and reduce scratching, dents and damage.
---
Soldering Freedom Gray Copper:
---
Before soldering Z-T alloy coated copper the pre-weathered coating must be removed and surfaces to receive soldering chemically and/or mechanically cleaned to produce clean bright alloy. With Freedom Gray Copper Gutter the pre-weathered coating may be removed by wiping with lacquer thinner. Non-metallic abrasive flexible sanding pads are recommended to avoid metallic contamination. To ease soldering a tin bearing flux may be applied to all surfaces to receive solder.  
Cleaning Freedom Gray Copper:
---
Before doing anything with Freedom Gray Copper remove excess dirt and construction debris by washing thoroughly with clear water. Grease, oils, etc. may be removed by washing with alkaline commercial cleaning agent in hot water. Do not otherwise chemically or mechanically clean Freedom Gray Copper Gutter.
---
Freedom Gray Copper Gutter Info:
---
A certain amount of the tin/zinc alloy coating on the Freedom Gray Copper is mainly recycled material, but since the percentage varies the recycled content of the 16-ounce Freedom Gray Copper is around 82.5% to 87.2%.