65 "Easy DIY Projects" To Turn Your Trash into Treasure
When it comes to decluttering our homes or apartments, most of us just grab as many trash bags as possible and start either throwing out, recycling or donating. We don't usually think about how we can turn our broken lightbulbs and our old silverware into actual useful accessories for our home. Even if you don't normally "DIY," that doesn't mean you can't create trash into treasure with easy DIY projects. The best home decorating projects are inexpensive if not free, creative, and inspirational. After all, how much can we really buy at a flea market anyway? If we're going to recycle, why not just upcycle?
---
1. Glass Bowls into Succulent Planters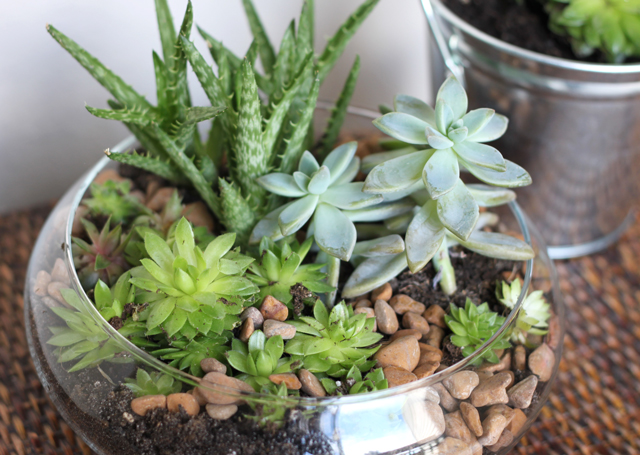 Looking for a fun DIY craft idea? Turning glass bowls into succulent planters is an easy way to take something you don't have use for any more and make into something of value. (Plus, it makes for a nice home for your plant!) For this home decorating project, start by placing a layer of small stones in the bottom of your glass bowl, then add a layer of moss. The moss will help prevent the soil from falling in-between the stones.
Once the moss is in place, then add a layer of soil, which you'll want to have about 1-2 inches from the top of your bowl. Then, you'll start adding your succulents and cacti. Placing them close together adds the most unique flavor to this project --- but the final choice is yours. Add a final layer of moss when everything is complete and you've got yourself a lovely succulent garden! Just be sure to give them lots of love and sunlight! This easy DIY project is definitely one for the books.
2. Wire Waste Basket into Modern Side Table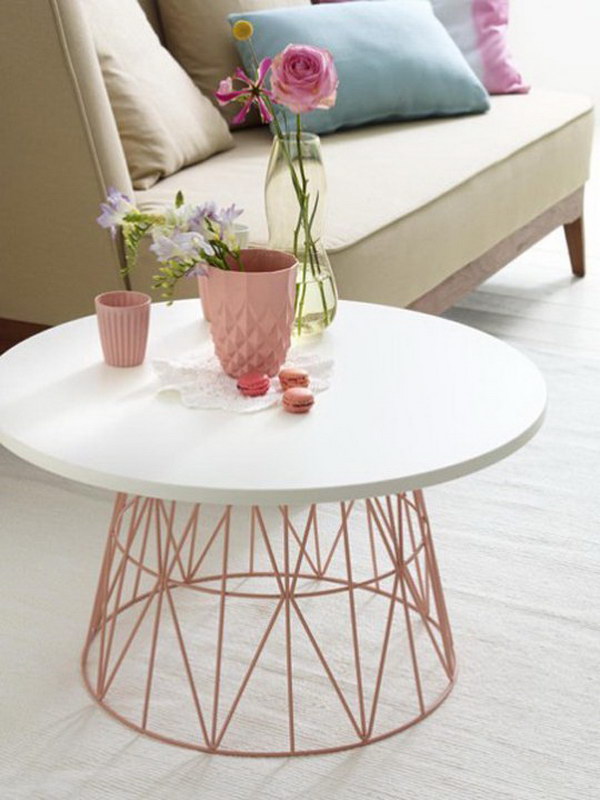 One of the key decorating strategies to make your home stand out is to decorate with one-of-a-kind pieces. Want an effortless way to add a unique side table to your home? You can turn a plain old waste basket into a chic side table in as little as several hours. Take a wire waste basket, paint it any color you'd like, let it dry, then flip it upside down. Your new end table is finished, and you didn't even have to spend hours on end going shopping (or spend any money!)
3. Plastic Coffee Containers into Storage Bins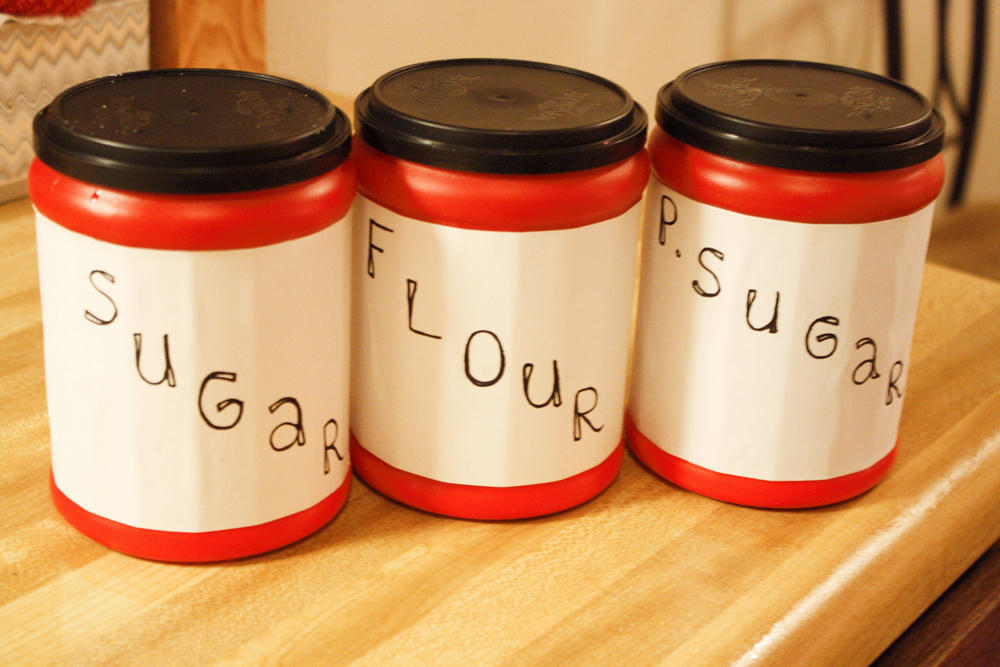 This is a favorite elementary school throwback --- repurposing old coffee containers! Unless you stray far away from caffeine, you'll know how often coffee comes and goes in your house.
What do you normally do with your old coffee containers? Probably recycle, right? Well, what about all your old pens, pencils, markers and scissors lying around the house? They need a home too! Try decorating your old coffee storage bins and making them personalized by labeling each!
4. Old Cabinet Doors into Backdrops for Product Photos
If you recently got new cabinets and are looking to do something with your old ones, look no farther than this fun DIY craft idea! You can turn your old cabinet doors into backdrops for product photos, an easy DIY project that one of our DIY bloggers came up with.
Recipes, photography, and parenting blogger, Sadie of Slap Dash Mom, believes in the power of repurposing your old, seemingly useless cabinet doors.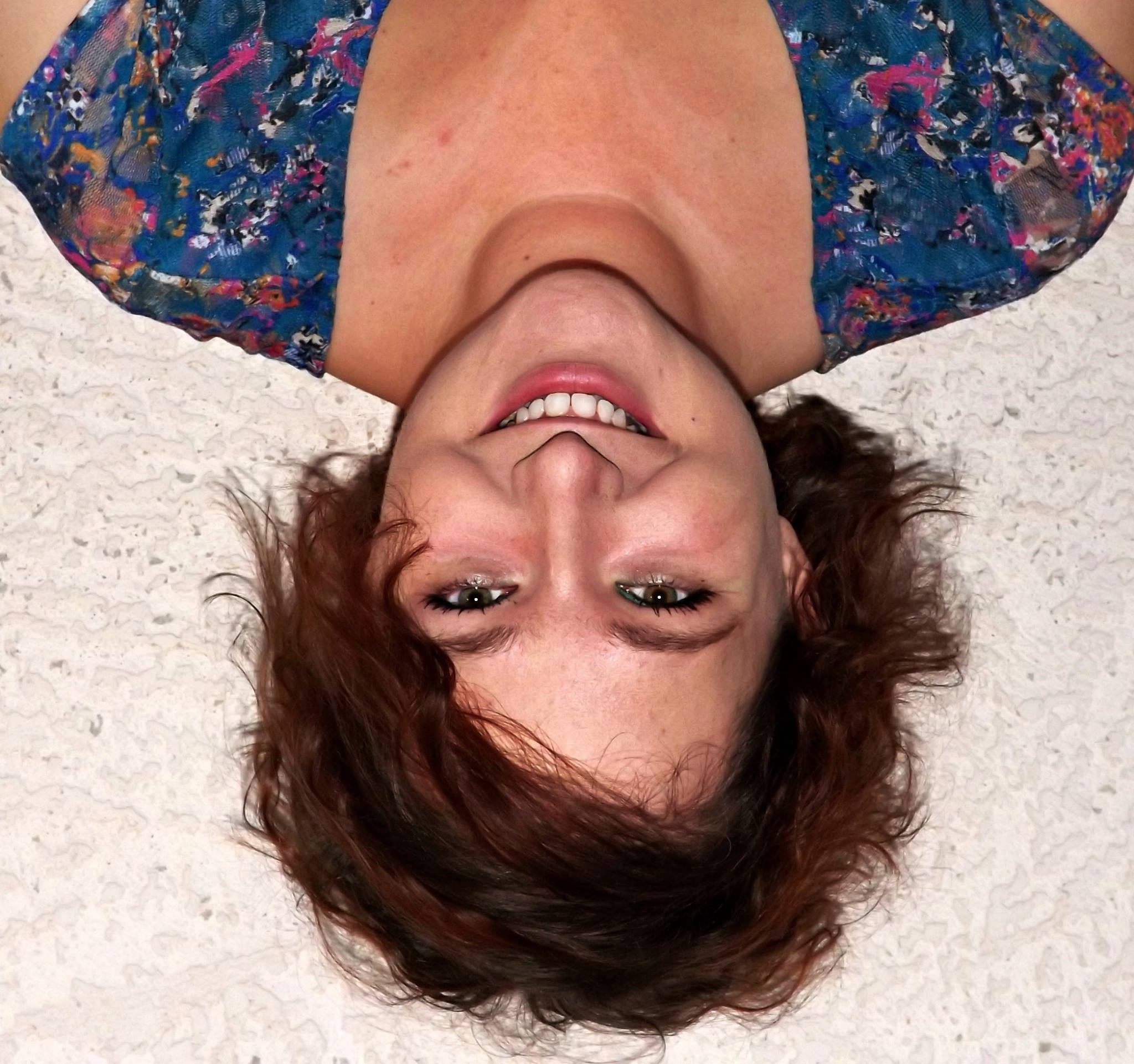 "We have repurposed old cabinet doors by spray painting them white and turning them into backdrops for product photos."
5. Old Toolbox into Gardening Tool Holder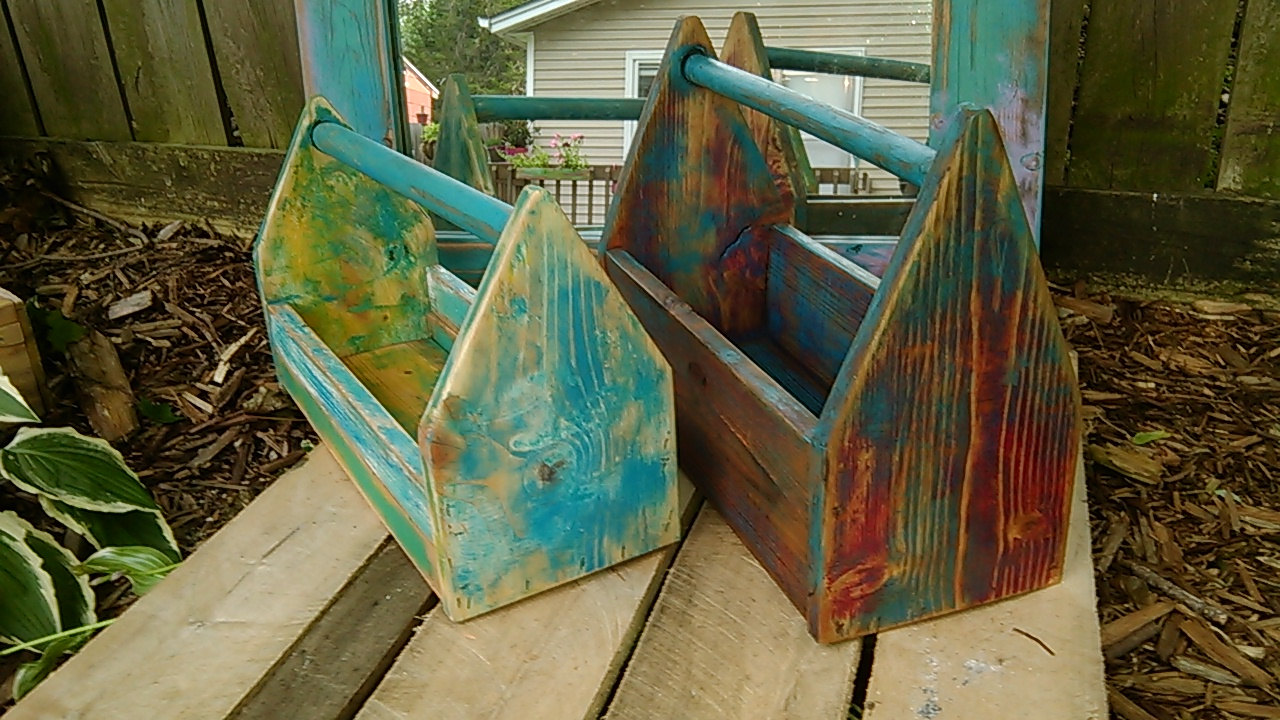 If you've got an old, "boring," toolbox lying around, gathering up dust, why not spend a Saturday painting it and turning it into something you'll actually want to use? This creative idea came from lifestyle, fashion, and parenting blogger Lisa of Planet Weidknecht. She says: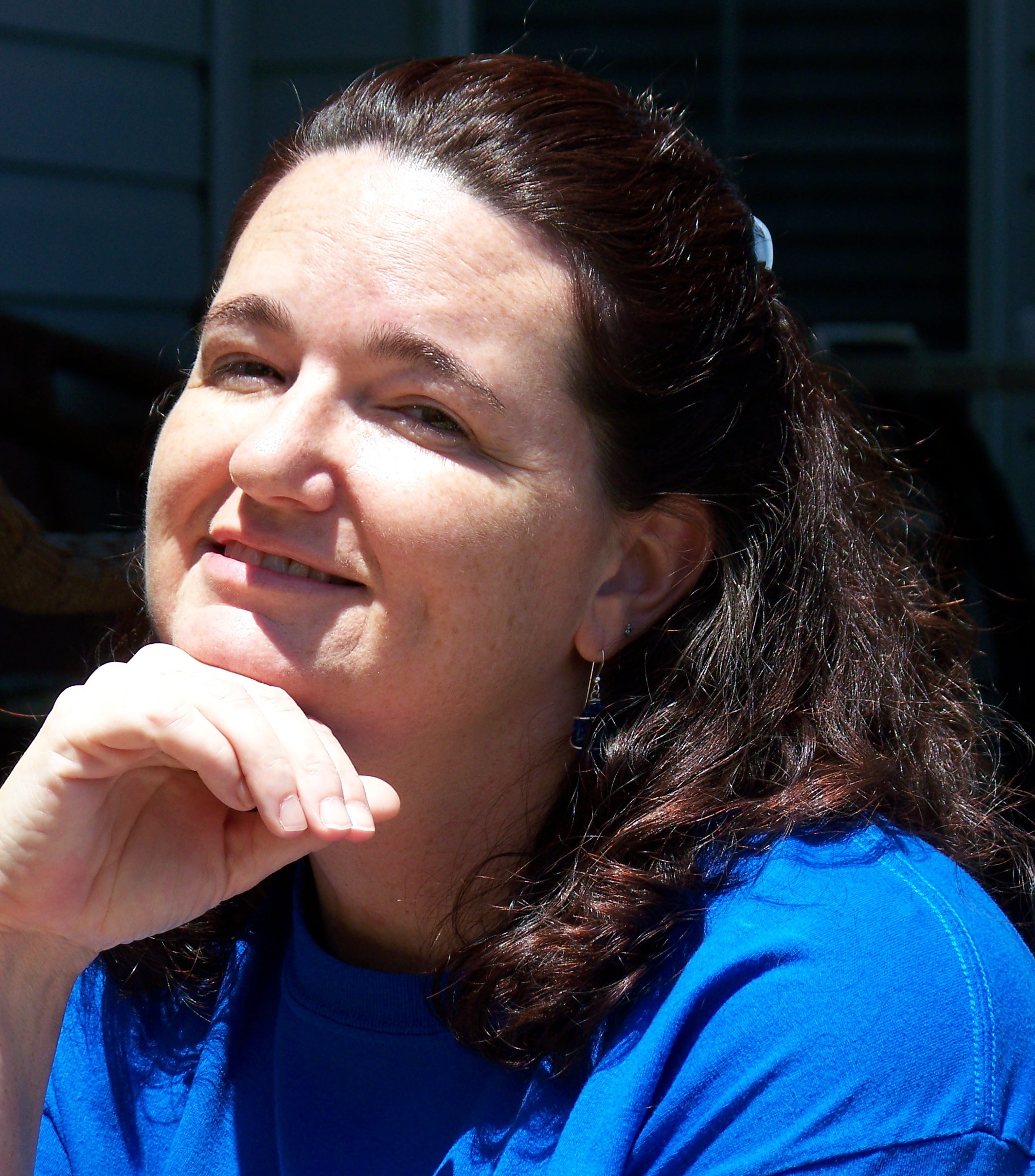 "My favorite garage junk DIY was repurposing a small, old, gray, plastic toolbox. I painted it with bright pink spray paint and used black vinyl lettering to spell GARDEN across the front, and filled it with all my gardening tools. It was too pretty to stick back into the garage, so it's perched on my back patio table now, easily within reach for my backyard gardening."
6. Plain Mirror Into Framed Mirror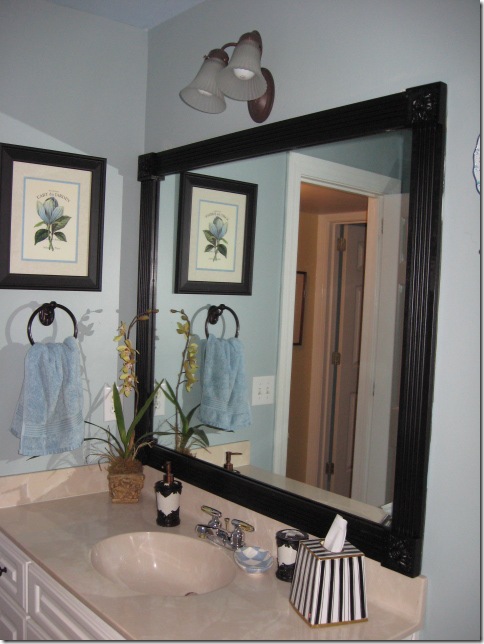 Sure, mirrors are great --- they're practically a necessity for making sure you leave your house looking polished and professional. But, why accept the fact that your mirror itself is, well, dull? (We all know you're far from dull, so why not have some fun decorating?) Janet, a Phoenix-based Mom Blogger, of A Mom's Take believes in the power of framing a builder-installed mirror to add some pizzazz to any room in your house. This home improvement project is one you can be sure to enjoy doing: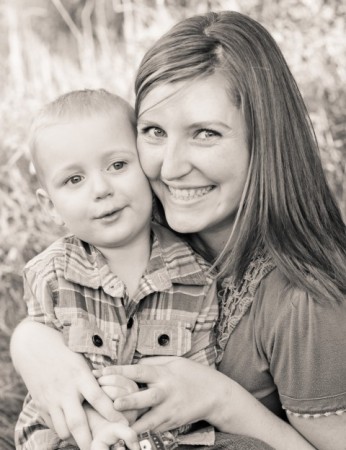 "A few months back, we transformed our master bathroom with our small bathroom design ideas! The before and after change was amazing and we absolutely love the way our bathroom looks, now. By far, the biggest change in the bathroom was framing our builder installed mirror. It is actually a pretty easy project and not all that expensive that is it something I wish I would have done years and years ago!"
7. Rake Head as a Jewelry Display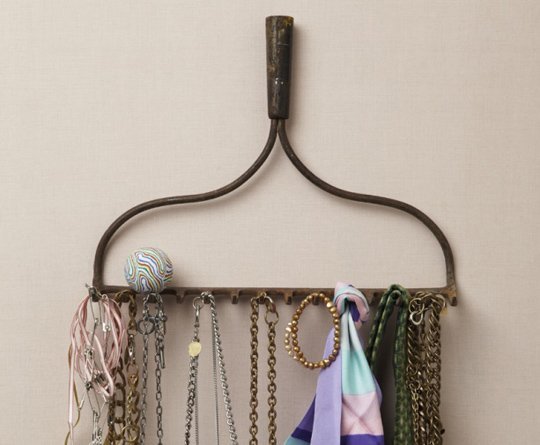 An awesome DIY gift (or --- you may decide to keep it for yourself!) Looking to keep your bracelets and necklaces tidy and organized? Well, stop hanging your necklaces over the door and trying to figure out where you misplaced your earring when you could be easily staying organized with a unique jewelry display.
Look no further than your own garage. Using a vintage rake head keeps necklaces untangled and hanging beautifully on the wall. Take a head of an old rake and clean it off. If you want to personalize it even more, prime and spray paint the rake to match your room's decor. Next, tie jute twine around the top part of the rake for extra earring storage. Afterwards, mount the rake head with a screw on the wall. And now you have a jewelry display that doesn't take up any of your storage room.
8. Cans for Kitchen Utensil Holders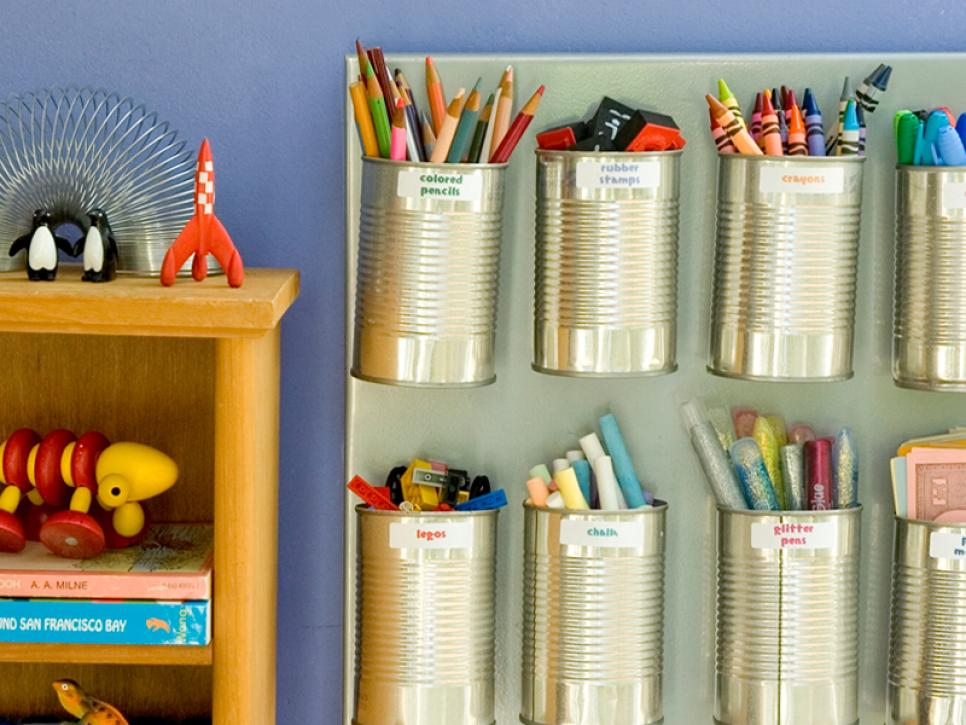 Home decorating projects have never been so fun (or easy!) If you have cans lying around (which I'm sure you do), a great way to make use of your recyclables and create kitchen storage in the process is using cans to make utensil holders. Use a drill bit to create a hole just below the rim on the back of each can then coat each can with spray paint. Finally, embellish with your favorite decorations or leave plain and simple. Hang each tin can from an S-hook onto a towel bar and fill with whatever utensils, herbs or kitchen tools you desire!
9. Mason Jars into Storage For Your Lunch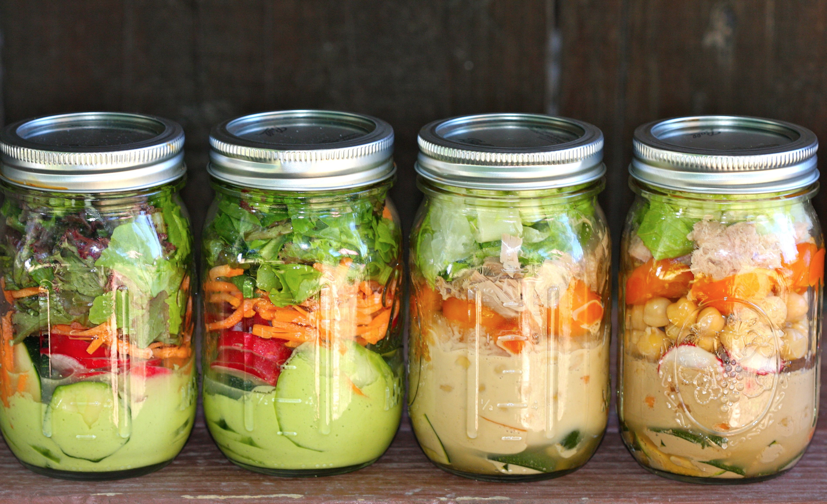 We've all heard of tupperware for storing our lunches, but how about mason jars? If you want to bring a salad to lunch but always find your food soggy by the time noon arrives, you need to first think about crafting your salad in a way that doesn't result in wilted-leaves.
To prepare your homemade salad, add your dressing, then add your ingredients that won't soak up dressing (like carrots), next continue layering as tightly as possible. Finally, add your greens at the tippy-top so they don't get soft and soggy. If you're also adding cheese or nuts, add them last. (If you're adding a protein such as chicken or egg, place it on top of the greens the morning you're going to eat the salad.)
10. Gutters for a Strawberry Garden
Have old rain gutters lying around? Well you can put them to good use! Strawberries are one of a type of fruit that don't need a deep space to grow. Since they can be grown in a shallow space, and rain gutters are shallow containers, they can be very ideal for the growth of strawberries. You can make the complete area with these decorative rain gutter trees and enjoy fresh berries right at home. (Just make sure you remember to buy new gutters for your home first!)
11. Credit Cards into Guitar Picks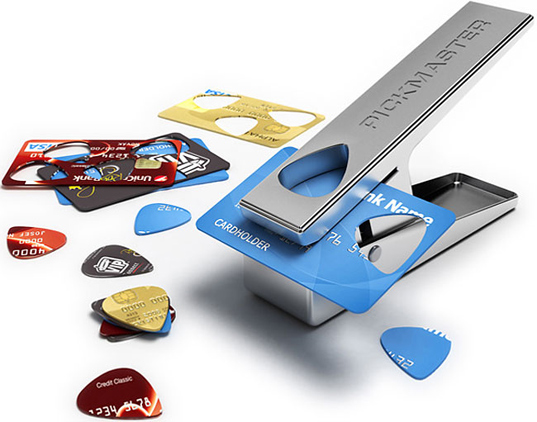 Do you ever feel like you're constantly losing your guitar picks and can't stand to replace them? If you have old credit cards you were planning on shredding, why not cut them up and make them into guitar picks? Use a permanent marker to trace the shape of the desired pick, then use quality scissors to cut out the shape of the pick. If you want to smooth out the edges of the pick, use an emory board or a scrap of fine sandpaper.
12. Create Gardening Tools with a Bespoke Handle
The founder of "Sugru," or a mouldable glue that turns into rubber, Jane ní Dhulchaointigh, an obvious DIY lover, believes in enhancing what she already has, instead of buying new. She said: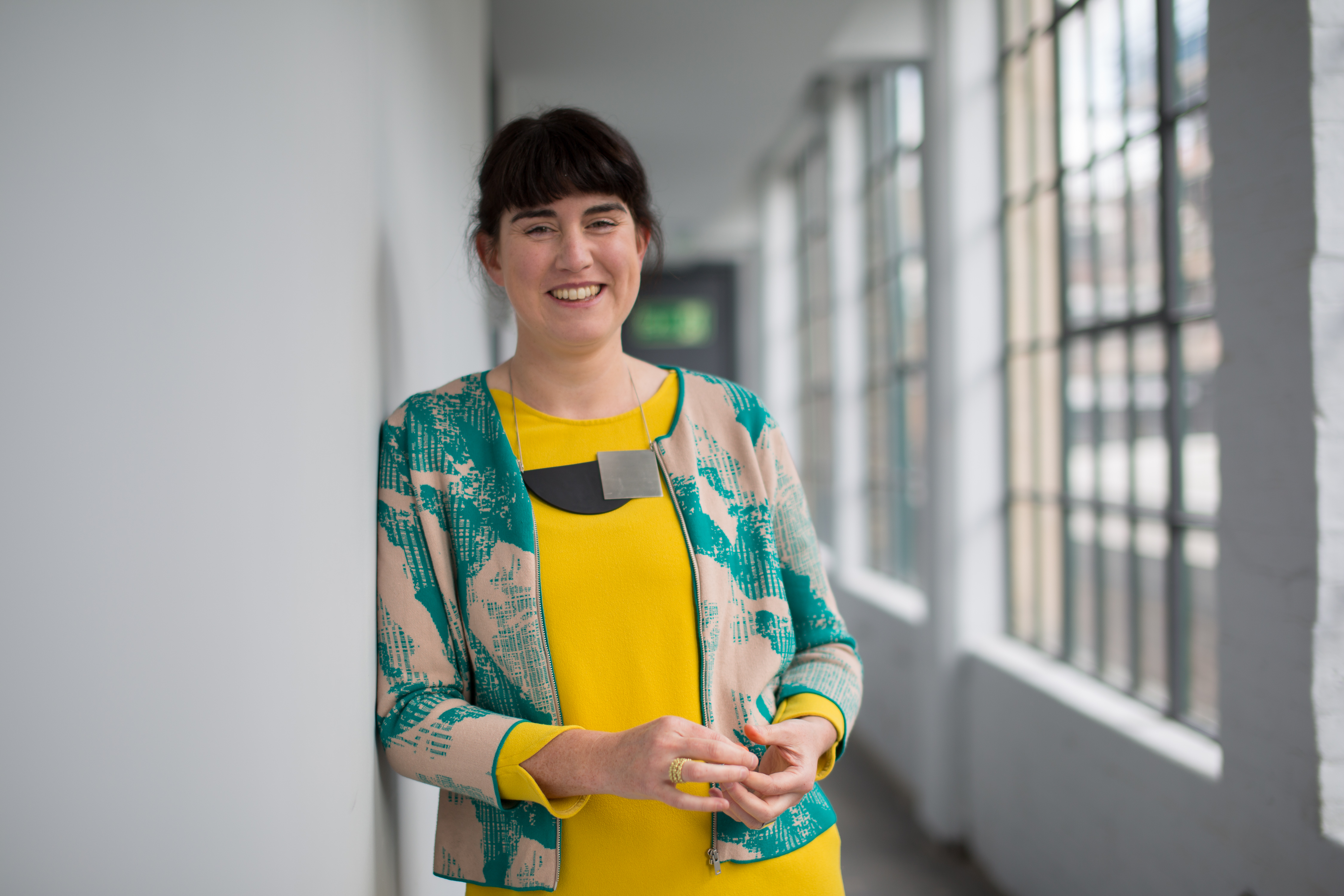 "At Sugru, we believe in the endless potential of fixing and enhancing the items we already have, to make them work even harder and better for us. That is the beauty of Sugru - it has thousands of different uses. Use it for everything from fixing a leaking watering can or wellies, or making your gardening tools more comfortable in your hand by moulding a bespoke handle. The sky is the limit!"
13. Grocery Bags into a Fruit Basket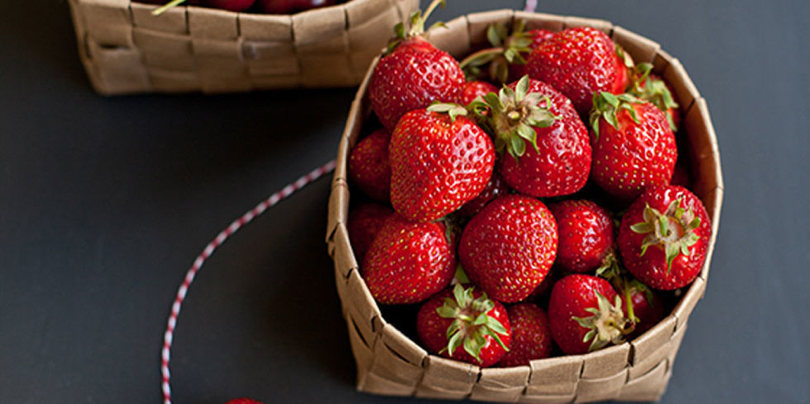 Drop your car keys --- you can find the best crafting materials right in your own home. If you have any old grocery bags lying around (I'm sure you do), why not upcycle them? Designer Lia of Lia Griffith has always found the best and easy DIY projects in her own home.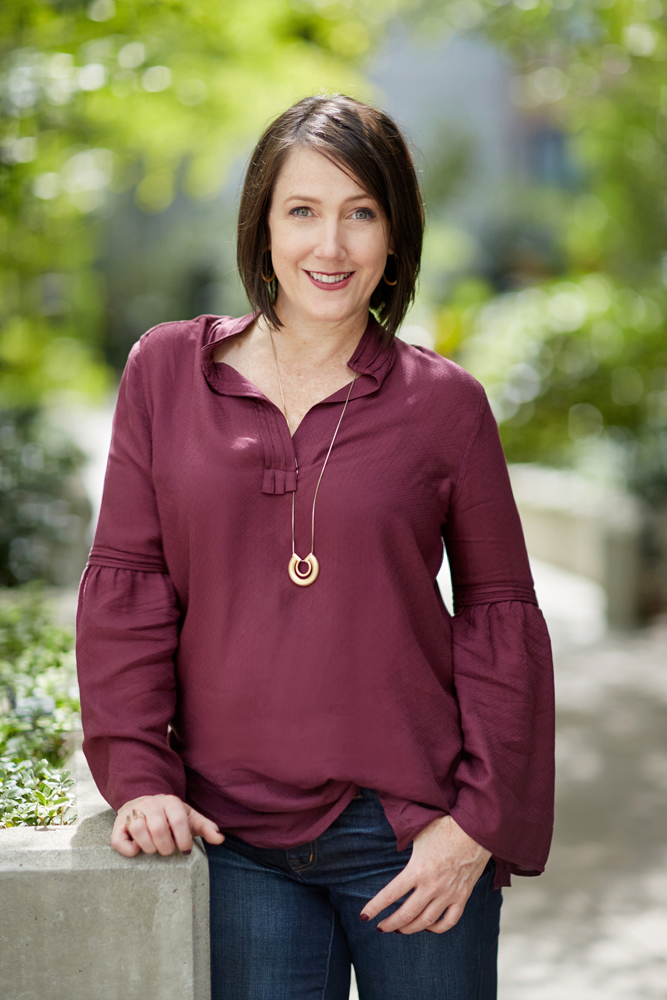 "Spend a little time in your garage and you can find heaps of pieces that would make great craft materials. Old paper grocery bags can be turned into a sweet little fruit basket, old copper piping can be turned into gorgeous pieces of jewelry or how about creating a painted patchwork effect on that old side table with the leftover paints?"
14. Spray Paint into Yard Art
Ok, who doesn't want to spend a nice, sunny weekend spray painting? This easy DIY project idea came to us from Melissa, owner/admin at family and lifestyle blog, Outnumbered 3-1.
"Items in your garage are great for re-purposing. Grab a can of spray paint and see what you can put together for some original and eclectic yard art."
15. Gutters Into Book Shelves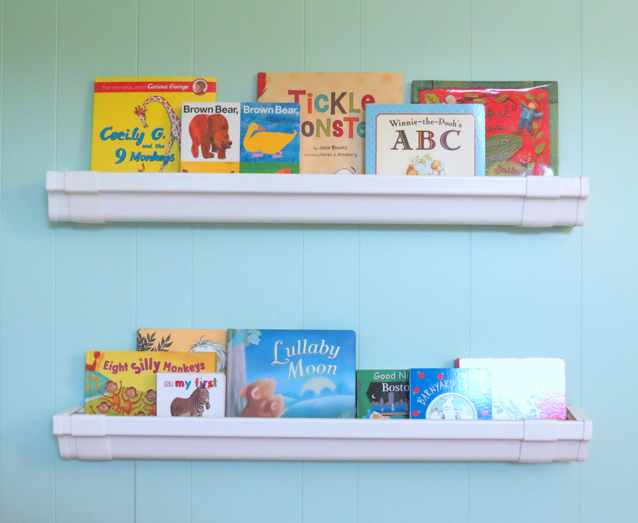 Have any old gutters lying around your garage, or maybe you're thinking about buying replacement gutters for your home? Think twice before you kick your old gutters to the curb. Why not upcycle them and make your own bookshelf? Mommy blogger, Angela, of Mommy PR believes you can find some real gems in the garage. Plus, you never know what a few screws and caps can do. How's that for a money saver?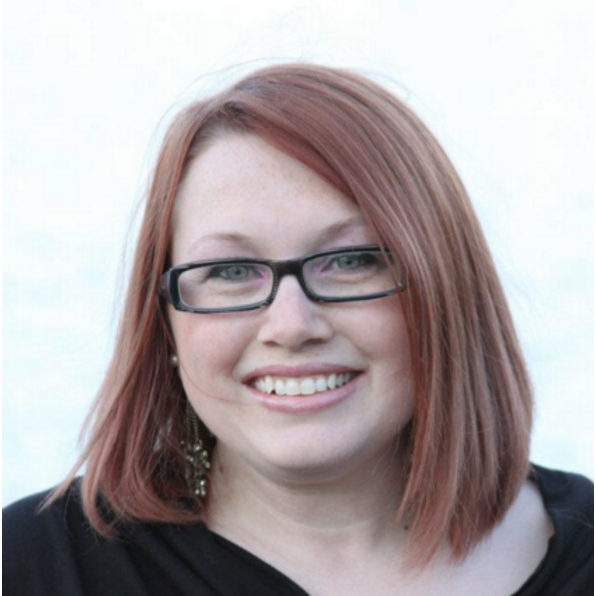 "Don't underestimate those old gutter's either. Simply cut them down, add end caps on each side, screw into a wall, and you have DIY book shelves! Garages hold gold!"
16. Pipe Caps into Tea Light Candle Holders
Virginia, blogger at That Bald Chick gave us a brilliant idea: pipe caps into tea light candle holders. Turn something seemingly mundane into something blatantly beautiful.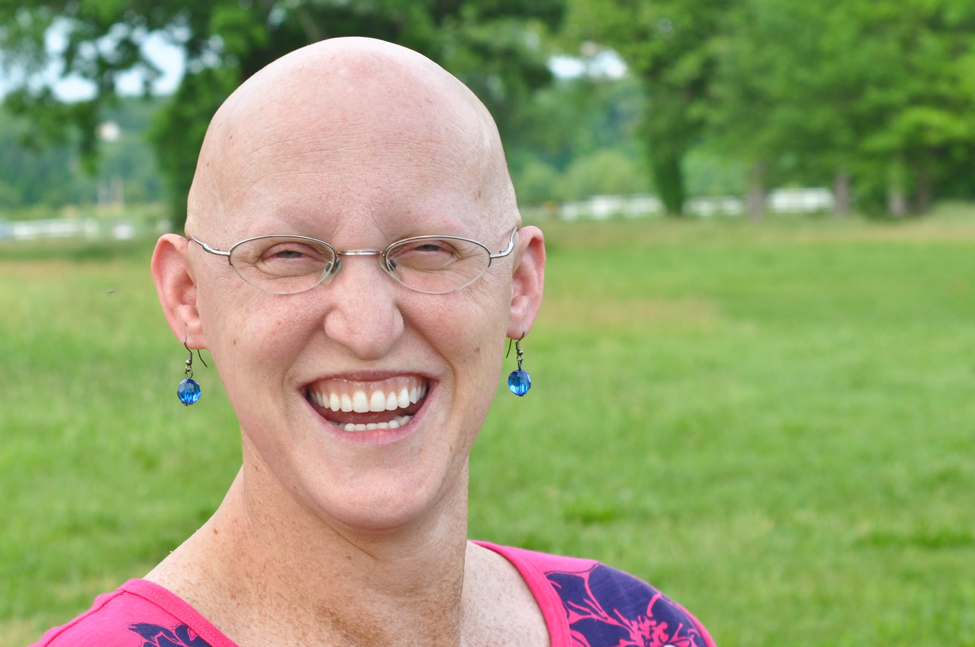 "I think my favorite upcycle item from the garage is pipe caps turned into tea light candle holders. Industrial and chic."
17. Boxes into Forts for Kids
Scarlet, parenting blogger at Family Focus Blog believes that boxes aren't just for storage --- they're also free fun for your kids: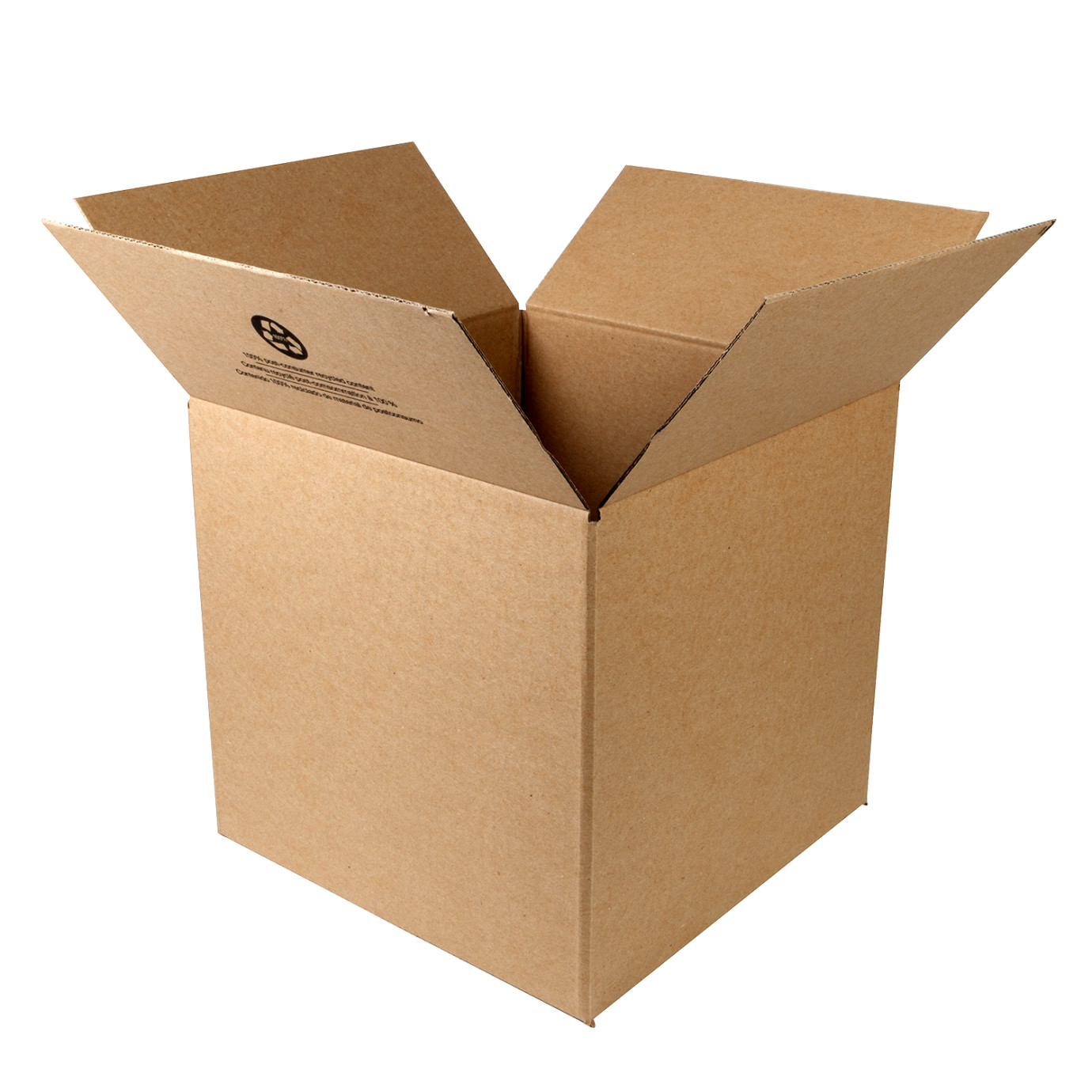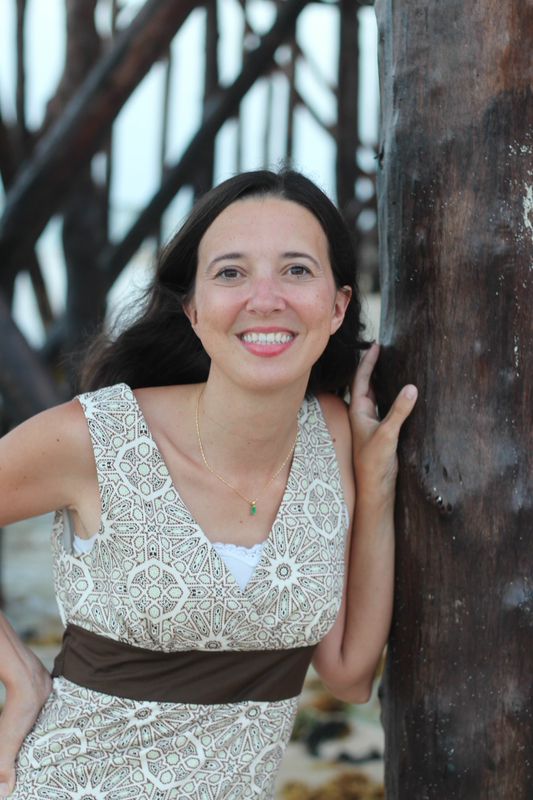 "Well, I myself was just cleaning out my garage and noticed I had saved way too many empty boxes for "just in case". I let the kids build a fort city with them. They can cut and color and tape and make homes for stuffed animals. Then you can recycle when you are done!"
18. Bicycle Wheels into a Pot and Pan Rack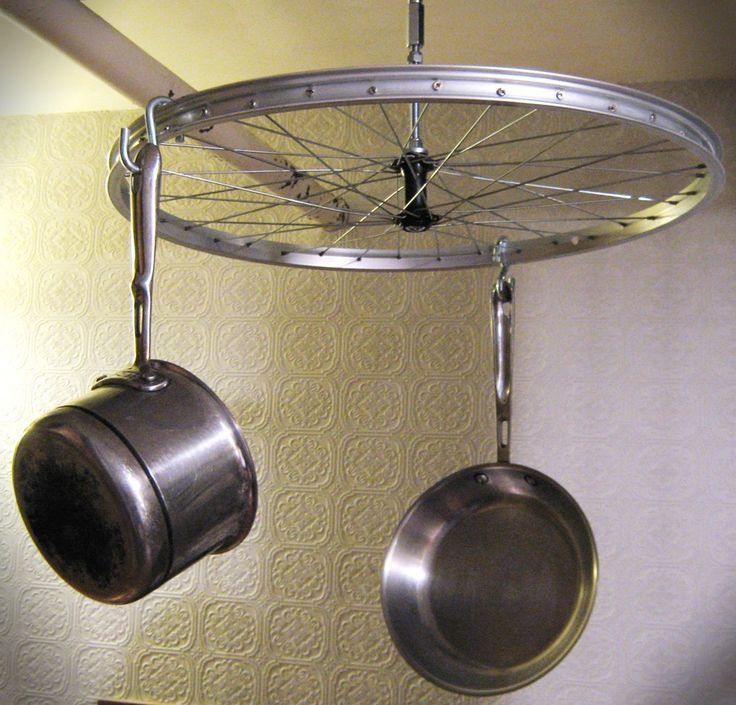 No, you don't need your entire bike for your project. Did you know that bicycle wheels are the perfect size for hanging pots and pans? Since they're round, you can create a turntable-type rack from them so your pots and pans will always be easy to access. Perfect idea if you have a small kitchen space and not a lot of storage room.
All you need to do for this DIY bike pot and pan rack attach the hanging hardware to the wheel so that you can attach it to the ceiling. Afterwards, simply add the hooks for your pots and pans.
19. PVC Pipe into a Shadowbox
Yes, you should think twice before throwing something away. Something as seemingly inane as PVC pipe can actually be a DIY-lover's favorite supply. Creative Director and DIY expert at Momtrends and The Shopping Mama, Mandy Fisher believes in the power of leftovers.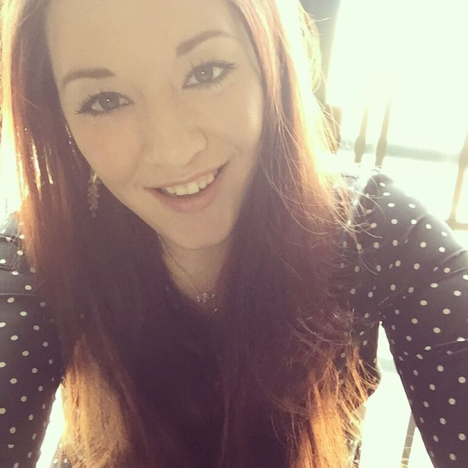 "PVC pipe is a DIYers best friend! Most everyone has some leftover from something and a little can go a long way. Cut a PVC pipe into rings and place in a drawer for quick storage. Or, hot glue them together, add a coat of spray paint, pop it on your wall, and you've got a shadowbox. Don't throw something way without brainstorming at least 3 ways to re-use it. If you can't come up with 3, it's time to say goodbye!"
20. Broken Clothespins into Jewelry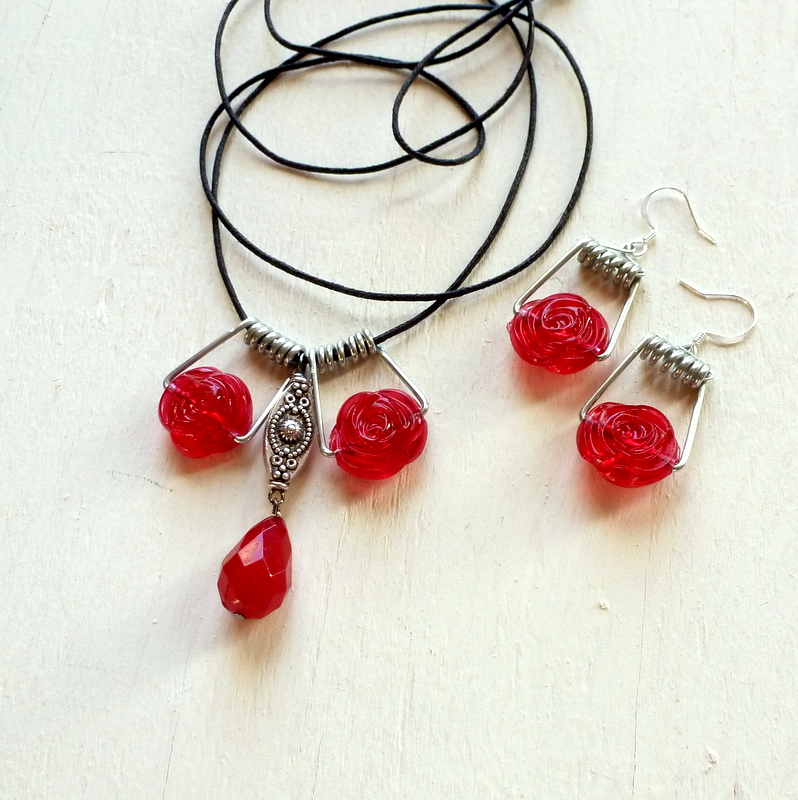 Have any broken clothespins lying around? Before you're about to drop them in the trash, think again. You can actually make upcycled jewelry with the simplest of materials: a fun DIY gift or project. A basic necklace requires just a single bead plus a clothespin. It won't take you any time at all, and no fancy tools are required.
Enter your email to get 11 additional easy DIY project ideas!
21. Broken Silverware into Wind Chimes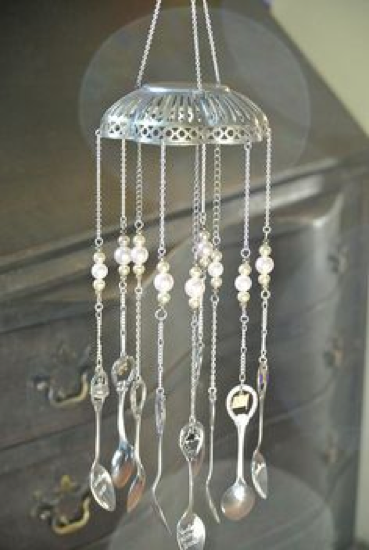 Do you have any old broken china/vintage silverware lying around the house that you just can't seem to throw away? (Or you just don't want to part with it!) Well, you can use these pieces to make wind chimes to hang on your front porch or wherever you desire!
Before throwing away/tossing aside in a drawer your most previously prized possessions, why not repurpose? Plus, you don't have to spend a dime!
22. Drawer into Bulletin Board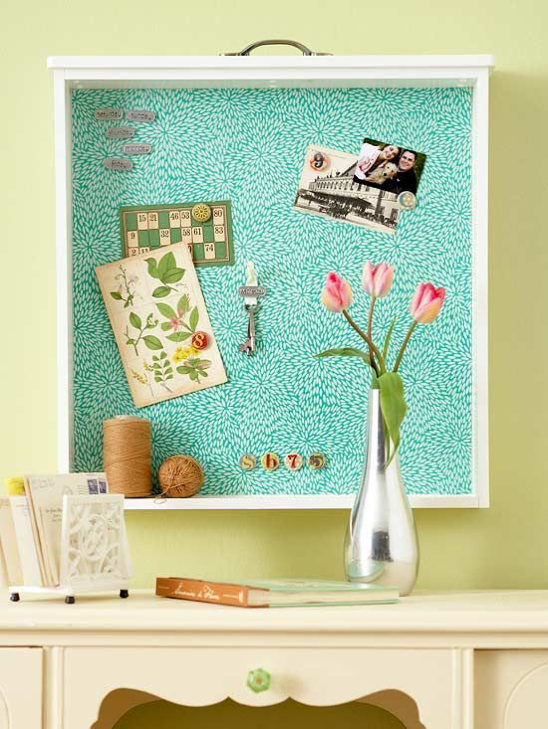 Looking to salvage an old drawer? WIth some fun crafting supplies, you can upcycle an old dresser by using one of your old drawers from a dresser you no longer need/use and hanging it up for use as a bulletin board. All you will need is an empty drawer, corkboard (or styrofoam), and colorful contact paper --- and before you know it, an instantly chic bulletin board you can't buy in stores.
23. Food Scraps into New Vegetables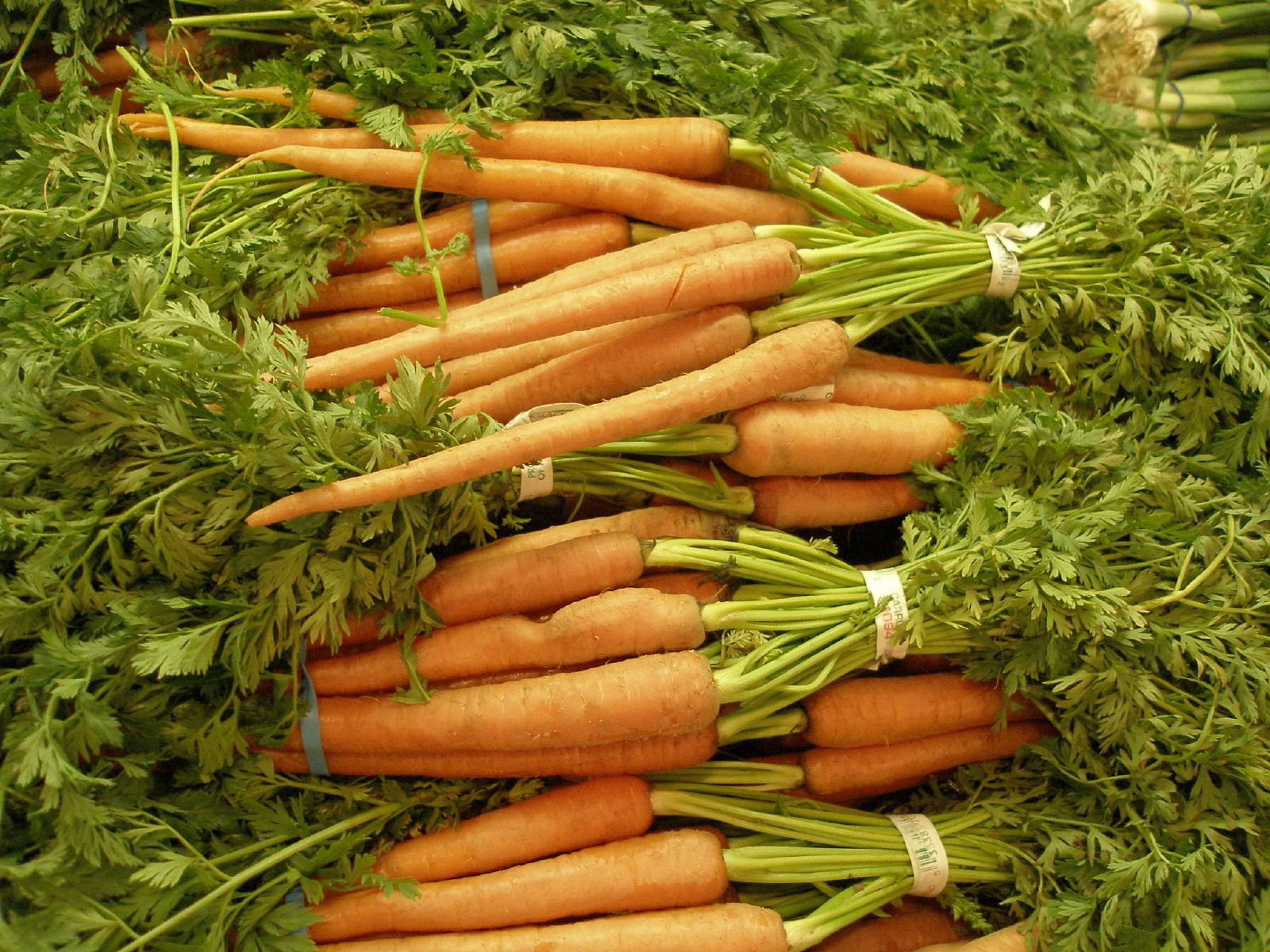 Anna, founder at popular parenting website for local fun, Mommy Poppins, doesn't believe in cleaning her plate at dinnertime but, instead, planting her plate! (Well, her leftovers)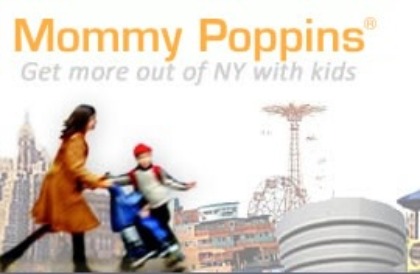 "A great way to
repurpose old food scraps
is to plant the ends that otherwise would have gone wasted. A lot of vegetables can be planted and grow into new plants, and it's fun to watch them grow, too."
24. Old T-Shirts into Scarfs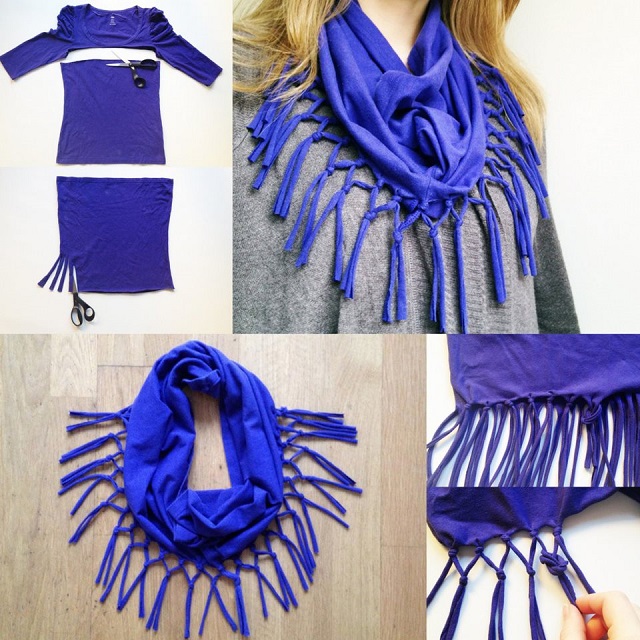 Got an old t-shirt lying around that you can't bring yourself to wear anymore? Why not repurpose it into a scarf for the winter? Your neck will thank you in the wintertime, plus your shirt won't gather dust in the closet.
25. Old Ladder into a Bookshelf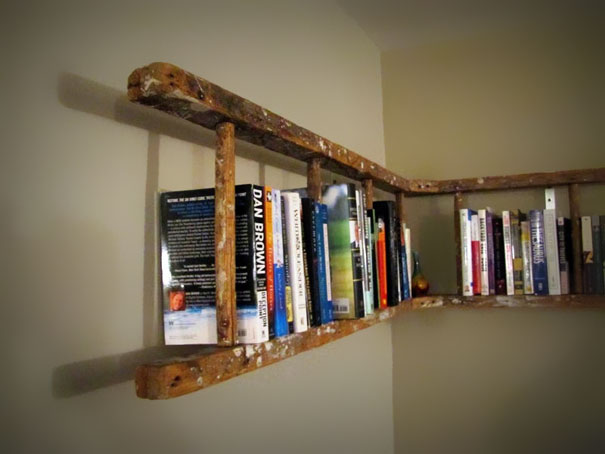 Have a ladder lying around your house? Take a creative outlet and repurpose the ladder. Did you know an old wooden ladder can be turned into a bookshelf? It adds character to to any interior and can be used in any room you'd like. Plus, ladders add character and flair to your walls --- and of course --- a vintage touch!
26. Wrenches into Wall Hooks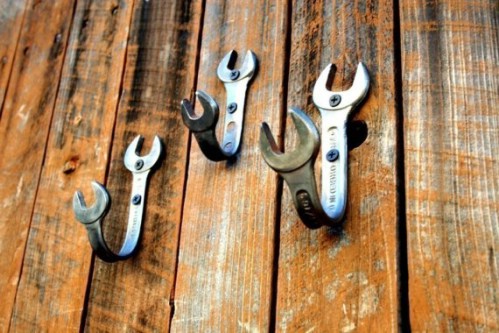 Have any old wrenches lying around? Add a rustic feel to your home by repurposing wrenches into wall hooks that you can just bend up and attach to the wall. You don't have to worry abou the weight either, as the wrenches are so heavy that you can hang pretty heavy items on them (including tool boxes, coats, and garden tools).
27. Crazy Ideas into Amazing Projects
We've all been there --- having an idea we think is either amazingly inventive but we think it sounds a little outlandish. Well, why not just go for it? Jami, DIY and lifestyle blogger at An Oregon Cottage believes the best projects are the most spontaneous ones.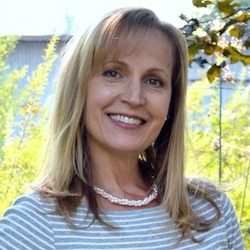 "Don't be afraid to look at what you have and use it in different ways, even if they seem crazy at first. Sometimes a project doesn't turn out, but when they do, they've always been our favorites and are the ones people think are amazing!"
28. Tin Cans into Musical Instruments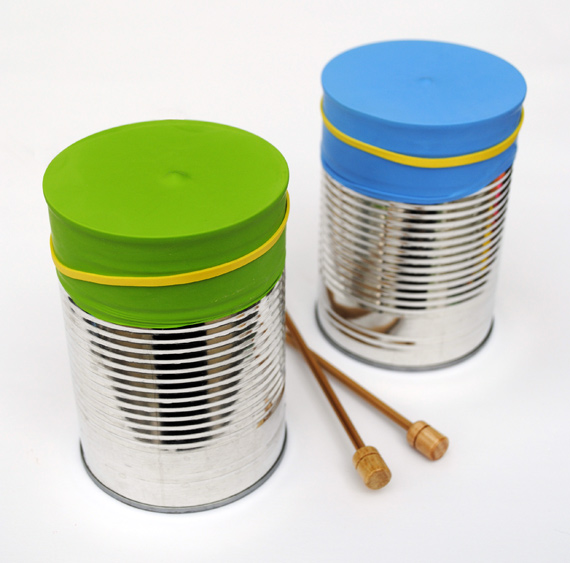 A favorite elementary school throwback: cans into instruments! For this project, you'll need are some empty tin cans, some rice/lentils, balloons, some sticks of your choosing and elastic bands. For this project, you'll want to place a handful of your rice/lentils in an empty can, then cut the end off the balloon and stretch over the tin can, secure the balloon with an elastic band, and start shaking!
29. Bottle Caps Into Magnets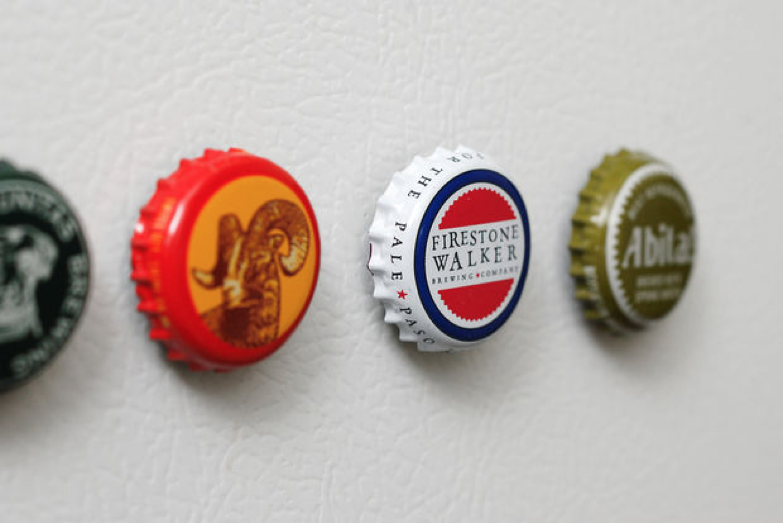 Have any old bottle caps around? Why not put them to use and make magnets out of bottle caps, something you probably would have never thought twice about when flipping them into the nearest trashcan.
This is a bit of a project, as it requires some materials, including bottle caps (of course), magnets (also, of course), strong adhesive, any pictures you choose and decoupage medium. But when completed, you're going to have a beautiful project for your refrigerator. You're always going to see your pictures when making dinner!
30. Cabinet into Jewelry Holder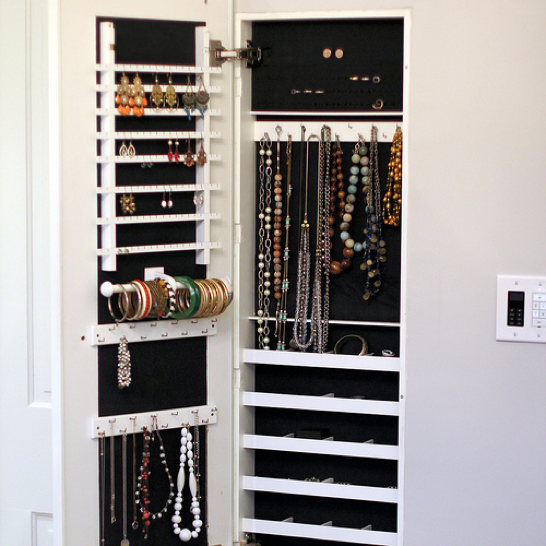 Repurpose an old cabinet into a jewelry holder with simple ingredients including the cabinet (of course), a drill, ruler, and knobs to hang your jewelry. This awesome idea from DIY Inspired makes DIY projects a breeze!
31. Cookie Tins Into Storage Bins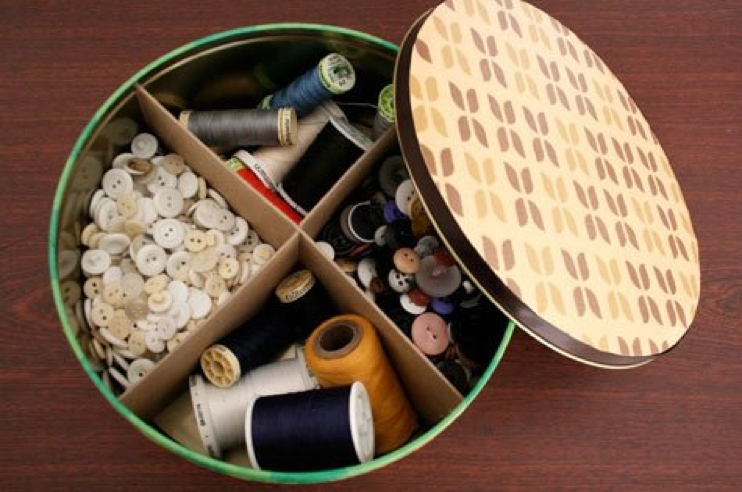 Finally, an excuse to eat all the cookies! You know those awesome holiday cookie tins you probably buy (or receive) every December? Well, you can use them to store larger office items, including ink cartridges for the printer. Plus, you can stack the tins to save counter space.
32. Soda Tabs Into Picture Holders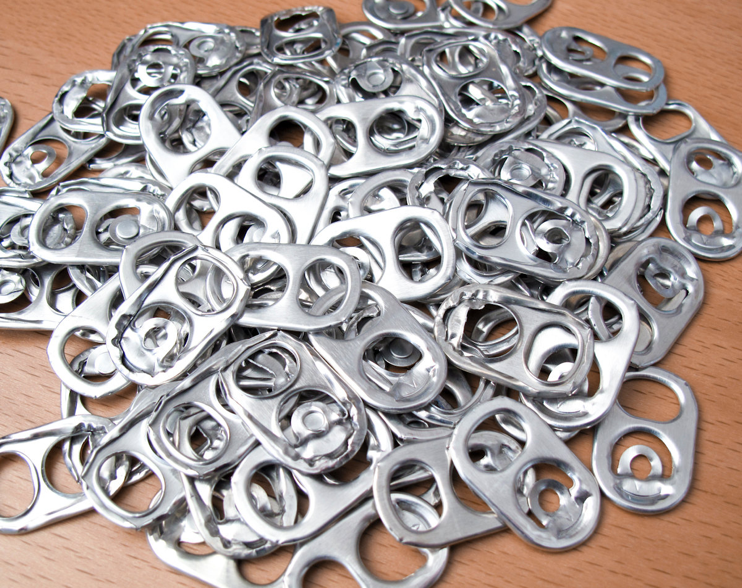 Before you throw out your soda can (or any other can), stop! You can easily turn soda tabs into picture holders with the help of a screwdriver and screw. All you need to do is make sure your soda tab still has the small ring attached to it, and from there, you use the screwdriver to screw in through that ring.
Place your tab on the back of your frame, centered about a few inches down from the top. Screw a short screw through the smaller bottom hole of the tab and into the back of your frame, and voila! You didn't need to go out and buy a hook.
33. Corks Into Earrings
This one goes hand-in-hand with the wine bottle reference!
You can turn used corks into one-of-a-kind jewelry by chopping them up into thinner slices and adding beads to dress them up.
34. Bottle Caps Into Mini Candles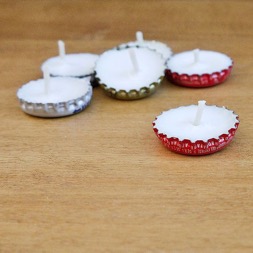 Save both your bottle caps and candle ends for making mini candles. Just pick up candle wicks at your local craft store for a couple of bucks and personalize the set by using tops from your favorite beverages. Mini candles are great for lighting cozy outdoor areas and these candles burn for about an hour before running out of wick.
35. Paint Chips into Bookmarks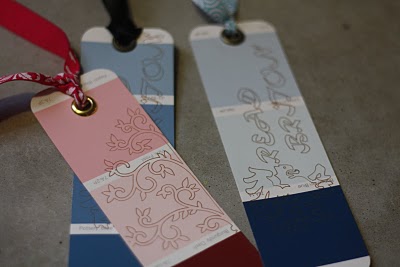 There's nothing more of an easy DIY project than making bookmarks out of paint chips. If you're looking for a fun gift to give to your book-loving best friend (or even yourself), look no further than making your own bookmark. It's simple, easy, and you'll never lose your place in your book again.
36. Cheese Grater into Earring Holder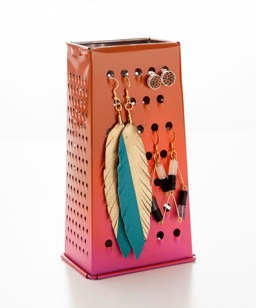 Do you find yourself constantly misplacing your earrings? Buying a jewelry holder is expensive, and most of the times, they don't hold up very well. So why not make your own earring holder and have fun decorating it too! (Yup, even your cheese grater can be a fashion accessory.)
37. Cribs into a Magazine Rack
All your young ones already grown up? The sides of a crib can make for a functional magazine rack --- so you can repurpose your crib even when you no longer have a little one sleeping in it.
38. Dish Drainer into Filing System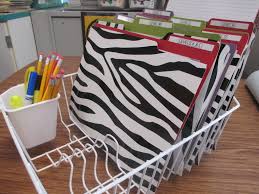 There's always been a history of turning kitchen supplies into home office supplies, like cans for holding pens, pencils, and scissors. Well, how about a dish drainer as a filing system? It can store magazines, papers, documents, etc. and has a cutlery holder a slot for pens, pencils, etc. Who would have guessed?
39. Pitcher into a Vase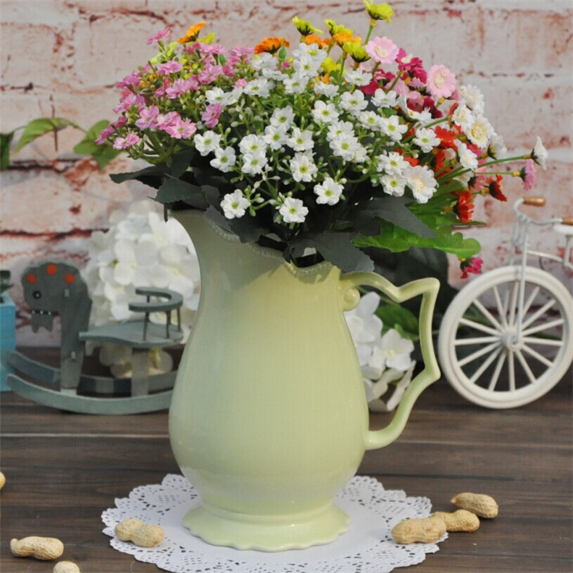 When you're in a small-space situation, dual-purpose items are a must. Instead of using vases around the apartment, use serving pitchers to hold floral arrangements. This saves on kitchen space and keeps blooms displayed in a fresh way.
40. Old CDs into Plates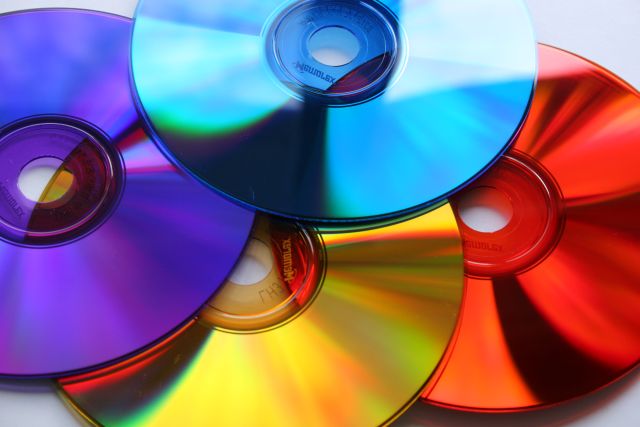 As CDs are becoming more and more obsolete, you're going to see more and more of them thrown away. But what if there was a cool way to reuse them? And I'm not saying put them back into your CD player. You can actually make mosaic plates using CDs.
To make your mosaic plates, you'll need CD's, plastic plates, scissors, mod podge and glue. To make, simply cut your CDs into small pieces until you've filled up your entire plate. Then, use glue to attach the pieces to the plate in a pattern of your choosing. Once your plate has been covered, use glue to fill in the spaces between the CD pieces, let dry, and then cover your whole plate with two final layers of mod podge. And wow, who would have imagined you used CDs to make it?
Enter your email to get 11 additional easy DIY project ideas!
41. Bottles Into Scent Diffusers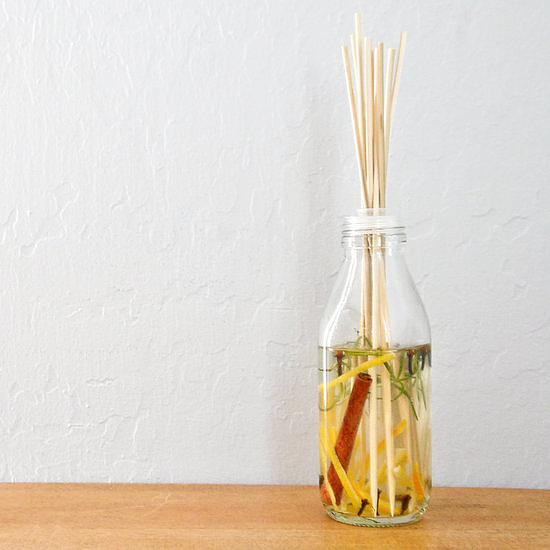 We all have bottles lying around, and believe me, there are countless ways to upcycle bottles. But how about adding a light and refreshing pick-me-up scent to your home or apartment?
Simply fill up an old bottle with bamboo skewers (grab them at your local grocery store), essential oil, rubbing alcohol, and more of your favorite scents for a DIY scent diffuser that doesn't cost you $15! This easy DIY project can make for a perfect gift for friends and family alike.
42. Ice Cube Trays into Knick-Knack Storage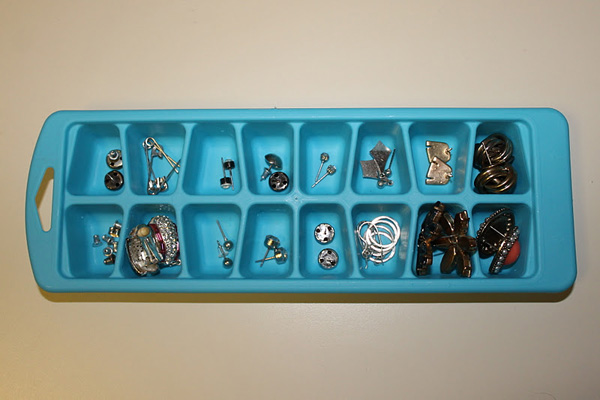 We all have probably more ice cube trays then we need (at least I do!) Why not use them for storage instead? Try adding little knick-knacks like easily get lost, like safety pins, buttons, thread, etc. in each individual cube.
43. Shutters Into A Headboard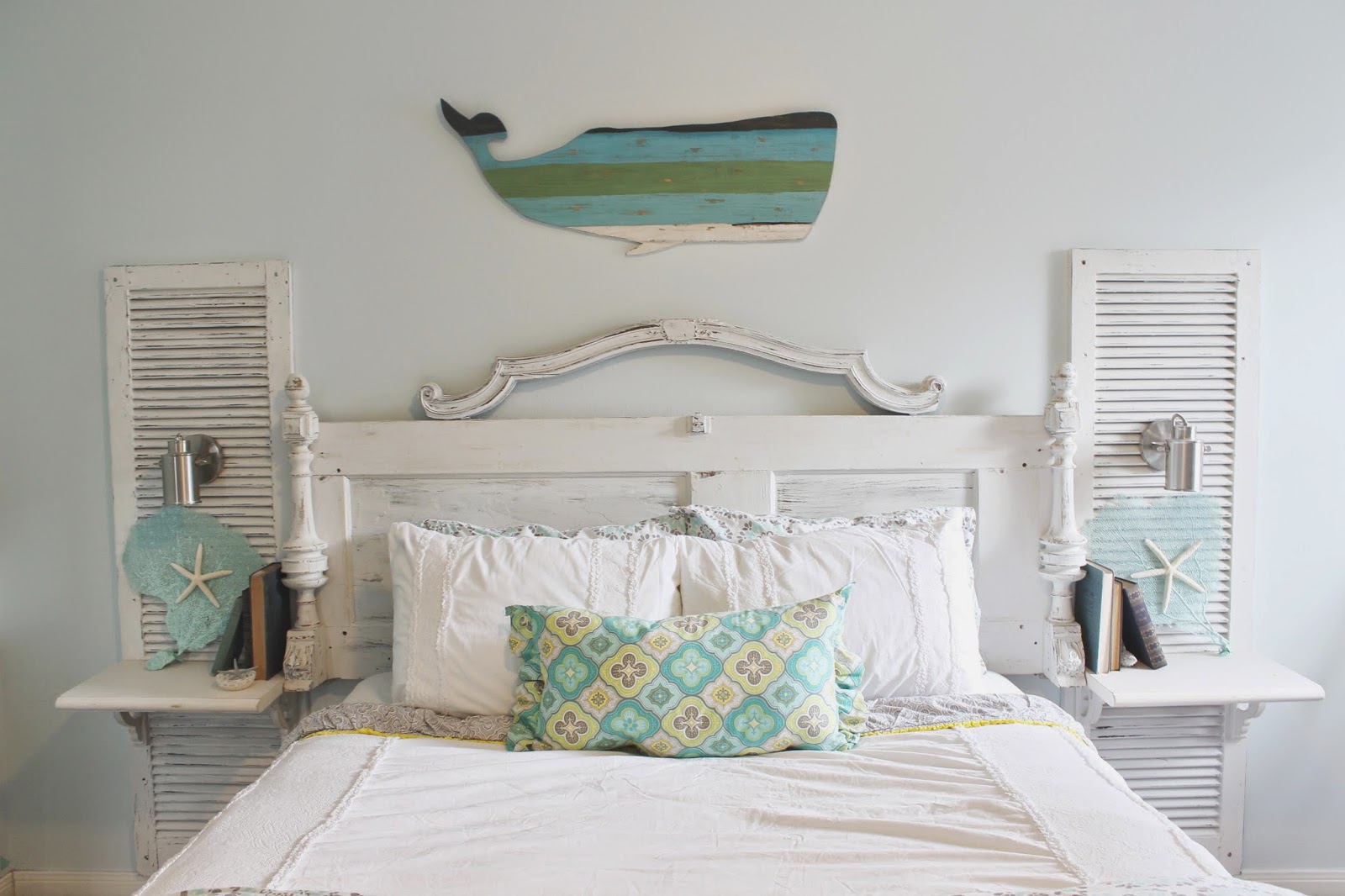 Your headboard is more than just a piece of furniture that attaches to the back of the bed; it adds character to your entire room. (Plus, they help keep your pillows from falling off the bed!)
Did you ever think to use shutters as a headboard? Using some vintage shutters as the main idea behind your bedroom space's style is romantic, unique, and creative! Why buy a new headboard when you can create your own with some rustic charm from your own home?
44. Screen Door into a Pot Rack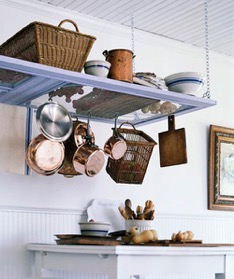 Pot racks are a great way to clear clutter in your kitchen. If you have an older screen door, you can put it to use and create some serious storage for all kinds of kitchen goods and goodies by creating a DIY pot rack, an inventive idea posed by Better Homes and Gardens. (First, you'll want to replace the existing screen with heavy-gauge wire mesh)
45. Tea Cups into Candles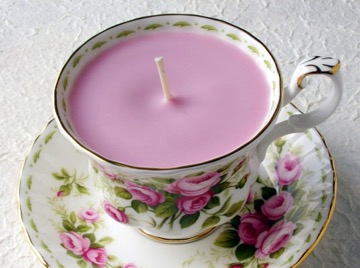 If you happen to have a cracked tea cup or mug, think twice before you throw it out. Take your teacup and transform it into a candle. If you've got the ends of candles around your house, then this project will cost hardly anything. All you need to do is pick up candle wicks at your local craft store, and you're already on the way to making a gorgeous homemade candle to enjoy yourself or share as a gift.
46. Wine Crates into Jewelry Display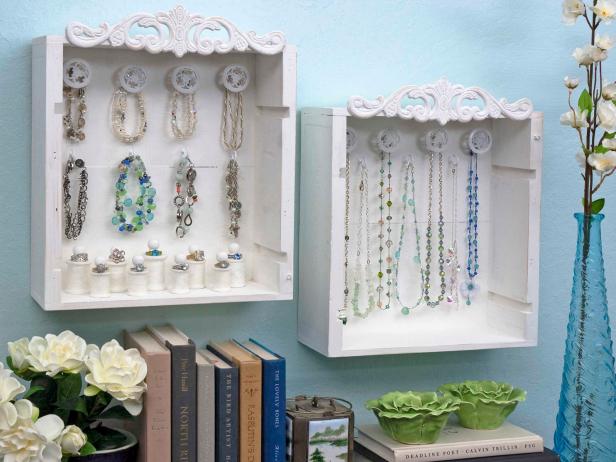 Give your empty crates of wine a brand-new purpose by turning them into jewelry display boxes that'll show off your collection of jewels while keeping organized and tangle-free. If you don't have wooden wine crates at home, you can easily get them from wine shops, and most of the time --- they're free!
47. Rocks into Paperweights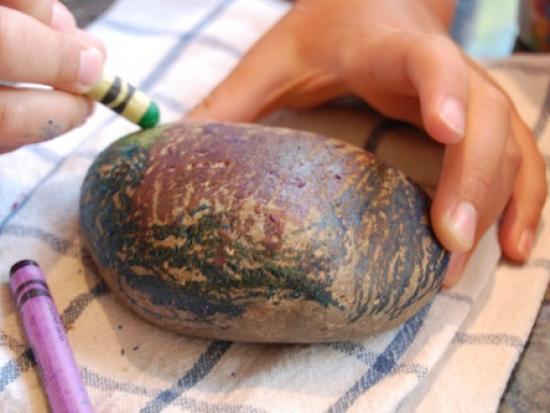 Talk about a fun, easy DIY project for your home --- decorating rocks and turning them into paperweights. We all love being outside in the summer, but with a few gusts of wind, your notes or papers which you had sitting outside, go flying off the table (or ground)! Why not create a fun paperweight to keep your necessities in place? Plus, we're sure you have tons of rocks lying outside.
48. CD Cases into Frames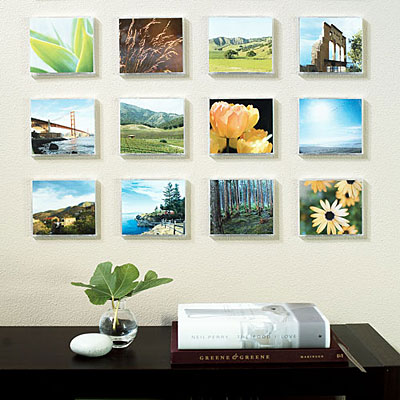 You can create a quilt-like grid collection of landscape photos using old CD cases you have lying around your home.
Simply scan or crop your images to the size of a CD case (5 3/8 in. wide by 4 5/8 in. high) and print on good photo-paper and trim.
49. Old Gems Into New Gems
It's hard to part with some of your former favorite belongings (or even your belongings which you're not sure what to do with anymore). Well, don't throw them out! They have character --- and I'm sure you can repurpose them into something new, exciting, and refreshing. Alex Ion, blogger at DIYs has just a few tips for you:
"Old things have a special character and a cool personality. Which is why spending a bit of time on something that might seem useless at first, might turn into a gem. Don't be afraid to bring life into your old items. They are unique in their own way, and everyone will notice them on a glance."
50. Bike Wheel into a Clock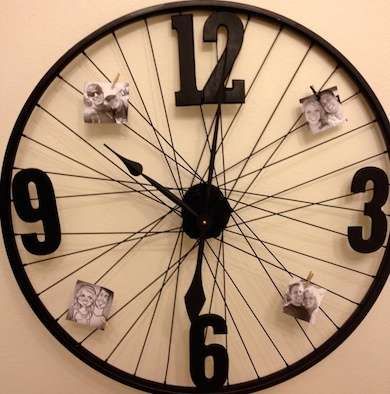 Home improvement projects can focus on aesthetics too. Forget waking up early to visit the flea market when you can use what's in your own garage to create something even more unique. Maybe you have an old bike in your garage that you're not using anymore. Did you ever to think you could repurpose it and make a clock out of the bicycle wheel? An old bicycle rim is a great base for a clock.
51. Wall Lights from Pasta Strainers
Looking for a clever new use for old things in your kitchen? Maybe you have some older collanders lying around, or maybe you picked up some vintage collanders from a flea market but wanted to use them as decoration.
You can create an entire wall light system using repurposed colanders. (The holes emit some pretty cool lighting.) Cool idea, and you can't buy anything like it in stores.
52. Forks into Coat Hangers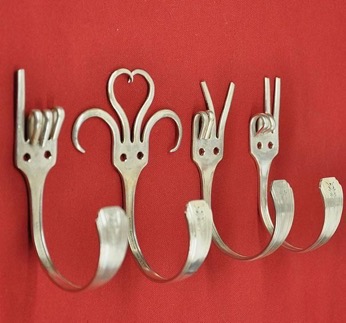 You're right --- utensils can be used for practically anything, even for hanging up your coat. You'll never wonder, "Where did I put my coat?" again after trying out this handy home decorating project. How about improving your home's aesthetics with an effortlessly chic coat hanger?
53. Yoga Mat into Coffee Holder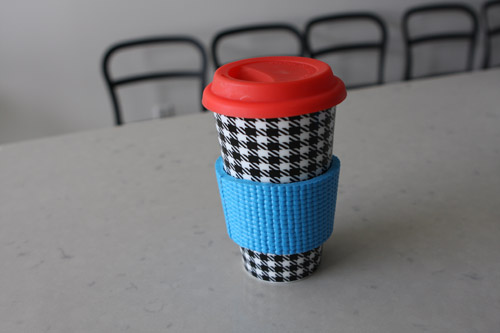 Simply cut a piece of yoga mat, measure against your to-go cup, and trim as needed. From there, just glue the two ends together and let it dry. Also, cut a small strip to attach to the bottom, so the mug doesn't fall out and glue!
54. Denim into Bracelets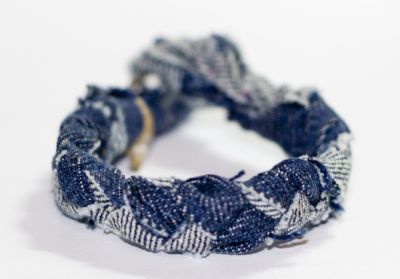 Denim fabric is as comfortable worn on your legs as it is around your wrist! Have any old denim lying around: Old jeans, shorts, purses? If you have old denim, you can wrap scraps of your old jeans around slim bangles, and voila --- DIY bracelet!
They are a lovely way to reuse material and get the most out of what we have rather than just throwing them out or shoving them away in your closet. Plus, they're cheaper than having to go out and buy new jewelry.
55. Coffee Filters into DIY Tea Bags
A DIY gift your best friends are sure to love: homemade tea bags! Making your own tea bags is easy --- all you need are some materials to stock up on: coffee filters, scissors, a sewing machine, loose tea leaves, a stapler, embroidery thread and paper for tags (construction paper will do!)
56. Tennis Racquets into Mirrors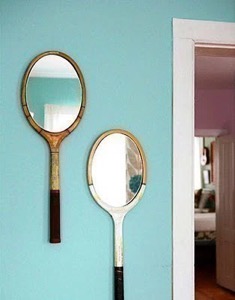 Finally, something you can do with your old tennis racquets --- and who would have thought to make them into mirrors and hang them on your wall? Just take your old racquet to a glass shop and ask for a custom-cut bevelled-edge mirror that fits inside the racquet's rim.
Afterwards, just put liquid nails on top of the strings and press the mirror down firmly. A quirky touch to your home that adds character and pizzazz.
57. Bubble Wrap for Plant Insulation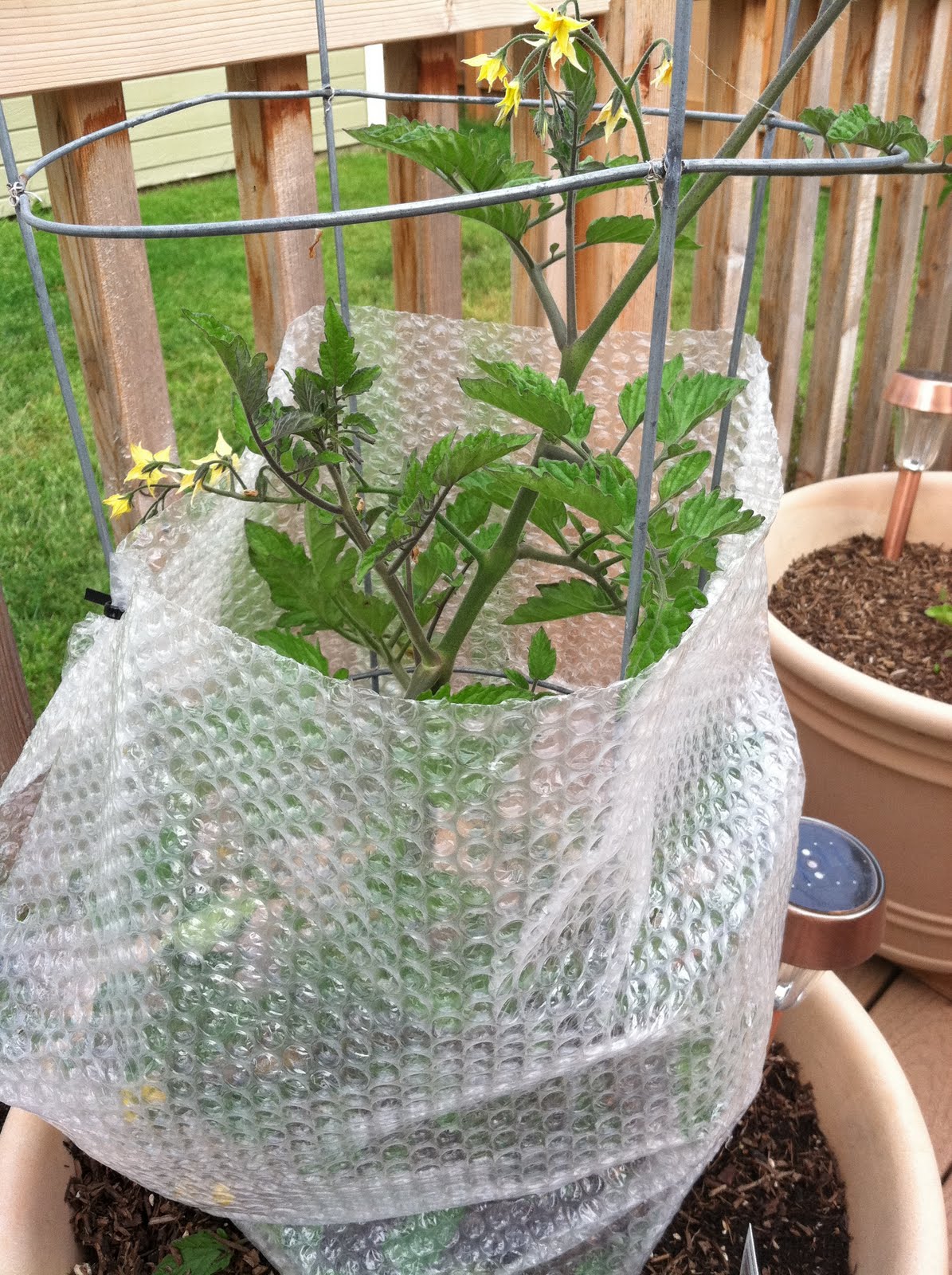 Keep your garden protected from the cold with some bubble wrap. In fact, bubble wrap makes for great plant insulation, even if you may be scratching your head in bewilderment. Bubble Wrap can be used to insulate plants during unexpected cold snaps.
58. Suitcase into Chair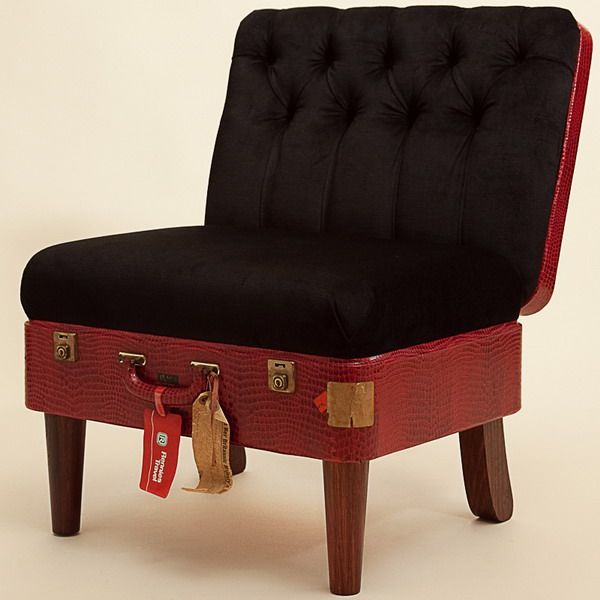 We've all been there when our suitcase wears, tears, or rips. Forget about tossing aside your old suitcase or throwing it out. Suitcases are expensive, after all! You can turn your old suitcase into a fashionable chair. For example, taking a vintage suitcase and transforming it into comfortable seating can help you create a bold fashion statement for your home.
59. Lightbulbs into Vases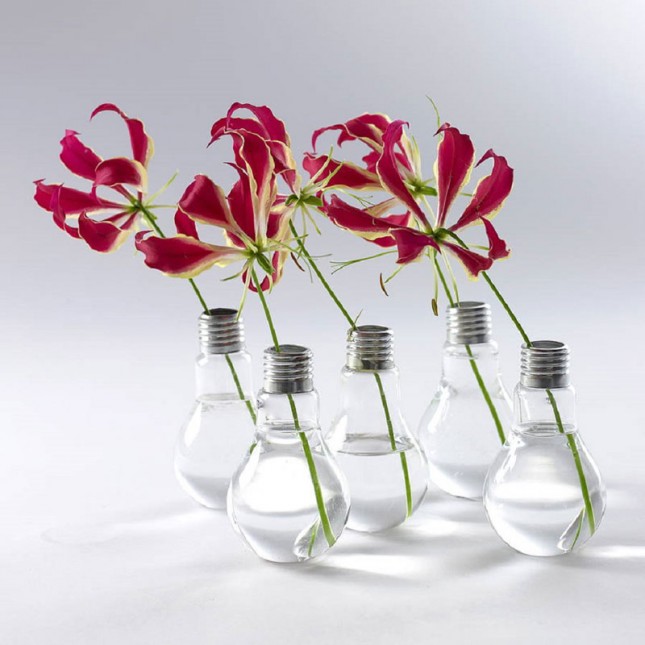 Once a light bulb is burned out, it's straight to the garage, right? Don't send your light bulbs straight to the garage just yet. Repurpose them into chic and unique vases. Easy, simple, and decorative.
60. Tin Cans into a Charming Wreath
Add some curb appeal to your home! Wreaths are easier to make than you think. You can even use your old tins cans to make a wreath! DIY Blogger Vanessa of DIY and Crafts wrote an excellent roundup on 50 Jaw-Dropping Ideas for Upcycling Tin Cans into Beautiful Household Items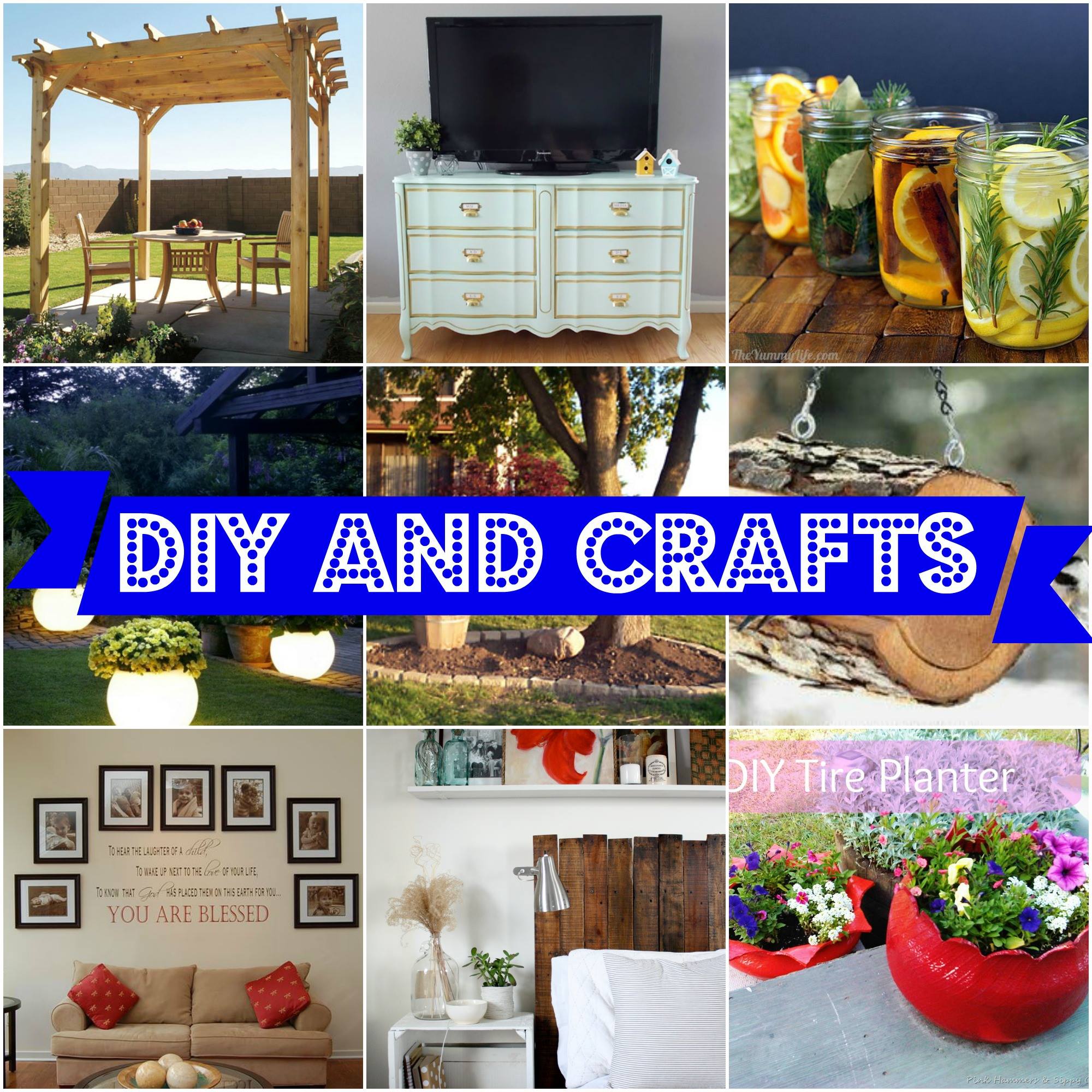 "You can make just about anything into a wreath if you're clever enough. But not many people would think to use tin cans! These cans have been painted a bright, eye-catching red and arranged into a simple, attractive wreath for a fence. It'd look awesome anywhere and has great homespun appeal."
61. DIY Key Holder With Utensils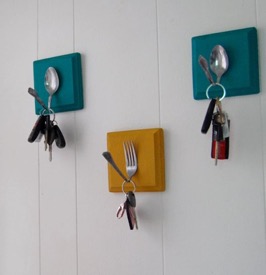 Have some older utensils lying around? Perhaps ones that have been been bent a little too much for your liking? Why not use these utensils and make DIY wall hooks for your keys. For this project, you'll need three piece of silverware (preferably thinner pieces over thicker), acrylic paint, three pieces of square, unfinished wood, clear Gorilla Glue, and three brass triangular hangers, for use when gluing to the back of the wood.
For this project, start by bending your utensils first --- it helps if you drop these in boiling water to soften them up a bit. Once they've softened some, remove them from the water using tongs. While wearing cleaning gloves, bend the silverware around something small and round, such as a small drinking glass. Afterwards, paint your wooden pieces with one-two coats of acrylic paint each then glue the brass triangular hooks to the back. Afterwards, glue the utensils to the front of each using a tiny bit of Gorilla Glue. (Be careful not to use too much glue!) And voila --- time to hang up your new key rack.
That way, you can never wonder where you placed your keys.
62. Yard Sticks into Wood Crate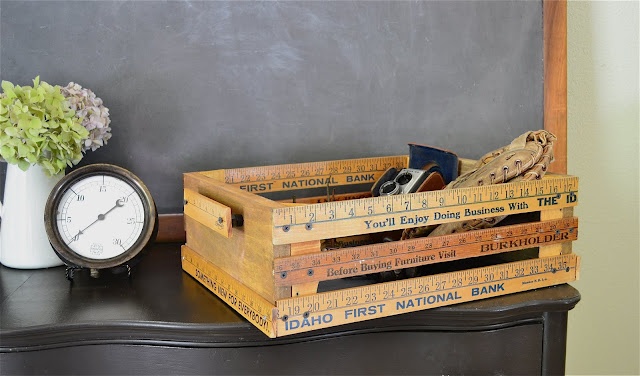 Yes, you can use yardsticks for something other than measuring! (Plus, how cool do they look?) You can actually make a wooden crate out of yardsticks and old storage crates. If you have some old storage crates that aren't in their best shape, you can take them apart, keep the useful parts and replace the rest with yardsticks. For this project, you'll need some stain, some wood screws and paint.
63. Contact Lens Case for Travel Medications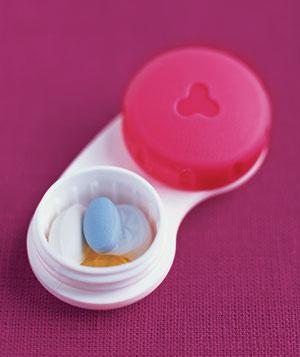 When traveling, eliminate clunky bottles for nonprescription meds from your purse or travelling bags by placing the pills into a contact-lens case. It's an easy way to ensure all pills are easy to find and don't get lost in the bottom of your travel bag. Just remember to bring a separate case if you are bringing your contacts as well!
64. Drink Carrier as Condiment Kit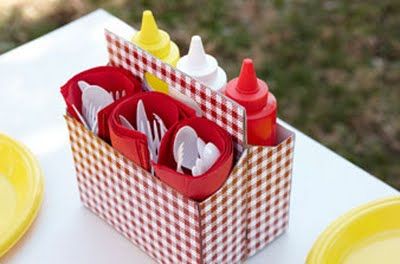 Bring condiments to a backyard barbecue, picnic, or anywhere on-the-go. (No one wants to risk spilling ketchup everywhere in the car!) Place flatware, ketchup and mustard in the compartments for easy transporting to your festivities. You can even decorate the outside of the drink carrier any way that you'd like for added personalization.
65. Binder Clip As Money Clip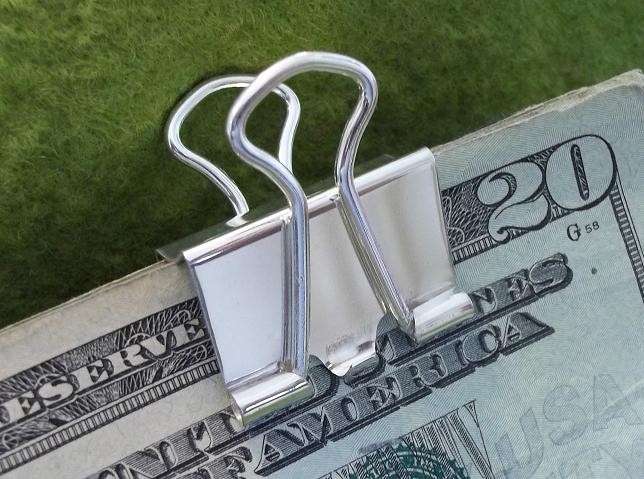 We probably all have binder clips lying around --- but what better way to repurpose them than to use them as a money clip? A binder clip serves as a key chain/money clip you can clamp to your waistband for a purse and wallet-free day.
Enter your email to get 11 additional easy DIY project ideas!