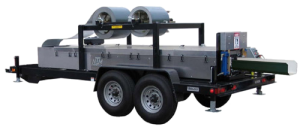 Click Here For The PDF File
NT 7" Commercial Box Gutter Machine
---
Solving Industrial Gutter Demands By Having
---
Features and Options That Custom Fit Your Needs.
---
NT 7" COMMERICAL BOX GUTTER MACHINE STANDARD FEATURES:
- New and Improved Polyurethane Drive Rollers
- Quick Change Power Pac, Gas or Electric
- Hydraulic Drive and Shear
- Power Interruption Safety Circuit
- Gutter Recognition Safety Photo Eye
- Length Control Limit Switch
- Push Button RUN/JOG Controls at Entry and Exit Ends
- Welded Tubular Steel Frame

NT 7" COMMERCIAL BOX GUTTER MACHINE OPTIONS:
- Computer Length & Batch Control
- Dual Overhead Decoiler Rack
- One Expandable Arbor
- 12,000 lb. (5,500 kg) Capacity
- NATM Compliant Tandem Axle Trailer, with Crane Lifting Eyes, Four-Drop
- Foot Stabilizing Jacks and Elec.
- Brakes with Breakaway Kit
- DR01-16 - Decoiler Reel 16" (400mm) ID
- DR01-20 - Decoiler Reel 20" (500mm) ID
- EXA - Expandable Arbor (16" to 20" ID)(400mm to 500mm)
- ROS-10 Ten Ft. (3m) Sections of Variable
- Height Run Out Table
- QCPP-E Quick Change Power Pac - Electric
- 7.5 Hp, 220VAC, 60 Hz, 3Ph, 18 Amps
- 5 Hp, 220VAC, 50 or 60 Hz, 1Ph, 30 Amps
- QCPP-G Quick Change Power Pac - Gas
- 16 Hp Electric Start Engine

NT 7" COMMERCIAL BOX GUTTER MACHINE SPECIFICATIONS:
BG7 GUTTER MACHINE
- Length 17'10" (5.4m)
- Width 4' (1.7m)
- Height 4'3" (1.3m) w/ Over Head Rack - 2'8" (.8m) w/out Rack
- Weight 3000 lbs. (1370kg)
---
BG7 ON TRAILER
- Length 21' (6.4m)
- Width 7' (2.1m)
- Height 6'3" (1.9m) with reel
- Weight 5200 lbs. (2370kg)
- Speed 60 ft./min (18m/min) Approx
---
DRIVE:
- Hydraulically Driven Polyurethane Rollers
---
SHEAR:
- Hydraulically Powered, Hardened Tool Steel Blades and Dies, Gutter Recognition Safety Photo Eye
- COIL WIDTH - 20" (508mm) Straight Back, HK7

MATERIALS FORMED:
- Steel - 26 ga. to 22 ga. (.4mm to .8mm) (painted, galvanized, aluminized)
- Aluminum - .032" to .050" (.8mm to 1.3mm)
- Copper - 20 oz. to 24 oz. 3/4 hard (.7mm to .8 mm)
---
WARRANTY:
- Limited three year parts / one year labor
- Limited lifetime separation on drive rollers
- Limited lifetime on stainless steel forming rollers