We all want our home to look great both inside and out. One of the best ways to enhance the look of any home is to increase its curb appeal. While new siding and fancy brickwork are great ways to add beauty to the exterior, they can be costly and take weeks to complete. One easy way to create instant charm is by updating your home with custom gutter accessories.
Read on to learn more about how these one-of-a-kind pieces can offer eye-catching appeal to your home's exterior.
Functional Style
Decorative custom accessories is a simple way to add both function and beauty to the exterior of the home. They can bring a stylish, distinctive look while still assisting in the functionality of the drainage system. These additions work well with new homes but can also be a great option for existing properties easily complimenting the current system. For a seamless pairing, many of these gutter solutions are available in the materials you are already have on your home including copper and brass. By swapping out a few standard hangers or brackets with unique custom ones, you can elevate your home from just average to amazing.
Custom Ornamental Options
At GutterSupply.com, we carry many of the popular custom gutter accessories available on the market today. With many styles and aesthetics to choose from, every homeowner is sure to find the option perfect for their unique home.

Rain Chains – Used by the Japanese for thousands of years, rain chains offer a beautiful, Zen-like alternative to the traditional downspout. From modern links to ornate themed chains, there are many options available for those looking to add an appealing accent to their home.

Ornamental Downspouts – One way to add a custom-look to your home is with spiral downspouts. Each downspout is hand-crafted to ensure a perfect match to your exterior. Available in both wide and thin spirals, they bring the "wow" factor to your gutter system.

Leaderheads – Also known as Conductor Heads, Leaderheads bring
architectural appeal and interest to the gutter system. They offer a distinct and unique finishing touch that completes the look of the gutter system. Each piece is custom-fabricated to your specific needs.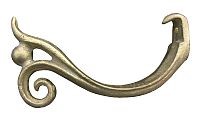 Decorative Hangers –If you want your home to stand out from the rest of the neighborhood make sure it shines at every turn including your gutter hangers. GutterSupply.com carries four styles of decorative hangers to choose from including the gorgeous Half Round Scroll and Ball Hanger. Available in copper, casted brass and patina finish, these hangers can seamlessly match with your existing hardware.

If you are just beginning a new gutter installation make sure to include some of these custom decorative details into your overall design. If you simply want to update your current gutter system consider options that will work well with the current materials and styles you already have in place. For more information about the large selection of custom gutter solutions GutterSupply.com carries, contact us at 888-909-RAIN.