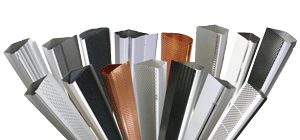 When considering ways to update your home while lightening your chore load, installing leaf guards is an easy choice. Leaf guards not only ensure an effective gutter system but also offer many other benefits to the homeowner. You can only fully enjoy these benefits though by finding the right gutter guard system for your unique needs.
When beginning your search for a leaf guard system, you must first learn about the many types of guards available. Here are the basic categories leaf guards can be grouped into:
Filter Insert Leaf Guards – These high-performing guards are constructed of a tough multi-polymer coating treatment making them rugged against the harshest of conditions. They are also fire retardant and inhibit the growth of mold, algae and other fungi. These guards work well with a broad spectrum of homes.
Screen Leaf Guards – A gutter screen type system is easy to install. They come in hinged, locked-on and drop-in styles and in a variety of materials such as galvanized steel, aluminum, copper and PVC. The hinged option makes it easy to lift the gutter cover for a speedy cleaning.
Hooded Leaf Guards – Hooded leaf guards are designed to expertly allow the water to flow into the gutters while keeping the debris out. The surface tension of the flow of the water follows the profile of the hood. Hooded systems offer great protection from clogged gutters.
Hybrid Leaf Guards – Hybrid systems offer the best of both worlds by combining a screen with a hood. Small holes in the mesh allow the water to easily drain through while the hood fully protects the gutters. This system is also virtually unnoticeable from the ground level.
Once you find the right system for your needs take time to consider how well the system will work with your unique home. Is it compatible with the gutters already installed on the building? Will it work with your specific roof type? The chart below can be helpful for this step of the process: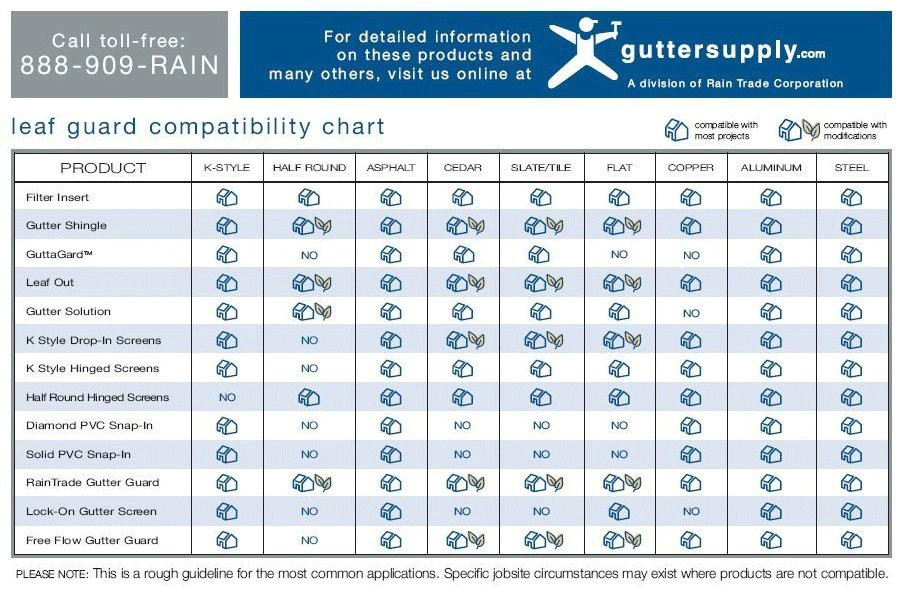 Lastly you must also take into account the ease of installation of any leaf guards you are considering. If you plan on installing them yourself, choose a system that can be easily implemented without a great deal of experience or modifications. You also want to consider the hardware and specialized tools that may be required to complete the work.
Looking for the right leaf guard system for your home? GutterSupply.com is your one-stop shop for all of your gutter needs. As the leading leaf guard supplier, we carry a huge selection of products from the brands you trust most. Our online store makes it easy to shop from the comfort of your own home while having everything you need conveniently shipped right to your front door. We are experts at what we do ensuring each shipment arrives to the customer damage-free.
Visit us online to learn more about our large selection of leaf guards along with the other quality products we carry. We also provide a helpful Gutter Guard brochure so you can learn more about the benefits of installing leaf guards onto your home or business. For further questions about your specific leaf guard application contact our expert service staff toll-free at 1-888-909-RAIN (7246).