The New Tech Mach II 5"K Gutter Machine produces 5" K Style Gutters. NTM Mach II gutter machines come with polyurethane drive rollers and stainless steel forming rollers. Other features include two 360 degree rotatable reel stands, push button controls at exit and entry ends, power interruption safety circuit, and forward pulling, easy cut shears for accuracy. If you're looking for a gutter machine that is versatile, easy to use and reliable, then look no further than the New Tech Mach II series of gutter machines.
We will beat any competitors pricing!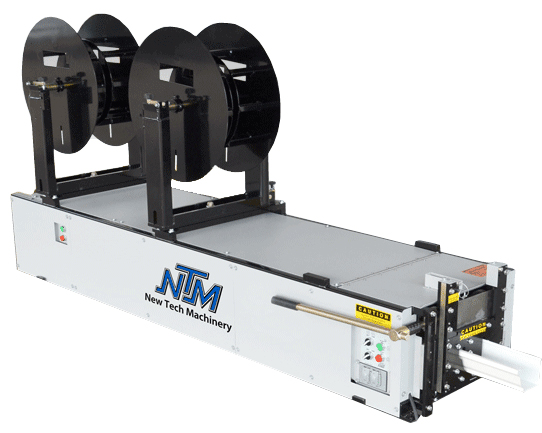 3 Year Limited Parts Warranty
MACH II 5" K Gutter Machines

The ORIGINAL polyurethane drive system.

VERSATILE. . . INNOVATIVE. . . DEPENDABLE. . . PROFITABLE

New Tech Machinery's patented Mach II has taken the seamless gutter industry to a new level. The only way to compete in the gutter forming business is to own a MACH II. Don't get stuck with an imitation.

Mach II 5" K Gutter Machine Standard Features:

- Separate Polyurethane Drive Rollers

- Stainless Steel Forming Rollers

- Push Button RUN/JOG Controls at Entry and Exit Ends

- Forward Pulling, Easy Cut Shear

- Power Interruption Safety Circuit

- Two 360 degree Rotatable Reel Stands with Easy Lift Reels

- Electric Motor

- Welded Tubular Steel Frame

- U.S. Patent No. 5,394,722

- U.S. Patent No. 5,740,687

Mach II 5" K Gutter Machine Specifications:

- GM5

- Weight: Mach II 5" Gutter Machine 1000 lbs (454kg)

- Length: Mach II 5" Gutter Machine 8' (2.4m)

- Height: Mach II 5" Gutter Machine 3'10" (1.2m)

- Width: Mach II 5" Gutter Machine 2' (.6m) plus shear handle

Speed:

- 50 ft./min (15 m/min) Approx.

Shear:

- Manually Powered, Hardened Tool

- Steel Blade and Dies

Drive:

- Electrically Driven Polyurethane Rollers

Materials Formed:

- Steel 30 ga. to 24 ga. (.3mm to .6mm)

- Aluminum .019" to .032" (.5mm to .8mm)

- Copper 16 oz. to 20 oz. 3/4 Hard (.5mm to .7mm)

Material Width:

- 5" K Mach II Gutter Machine: 11-3/4" to 12-3/8" (300mm to 315mm)

Note: Requires 10 gauge, 15 Amp Extension Cord.