Our Free Flow Gutter Guard applies surface tension to guide water into the gutter while keeping leaves and debris out. The 1/2" horizontal opening allows this product to handle even the heaviest rainfall volumes.
Its design provides the Free Flow gutter guard with a custom fit to any home or roof pitch. Plus, it has a low profile that easily accents the home, hiding metal flashing and keeping gutters from standing out among shingles.
With one of the highest water capacity of any gutter protection system, our Free Flow Gutter Guards offer the protection you need and the color to match. Add this valuable product today for any 5" and 6" K Style Aluminum Gutter.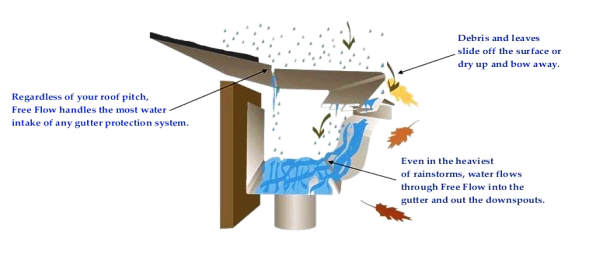 The Free Flow Gutter Guard works on the technological rule of water adhesion. The design of this gutter guard allows water to enter the gutter while keeping leaves and debris from getting in. The gutter guard design allows the Free Flow Gutter Guard to be custom-fit to any home by adjusting it to any pitch of the roof.
---
The 1/2 inch horizontal opening is ideal to handle the heaviest rainfalls and to keep out debris.
---
The Free Flow Gutter Guard has a low profile design that decorates the look of your home by blending your gutters with the shingles and hiding ugly metal flashing. It will add to the curb appeal and overall value of your home.