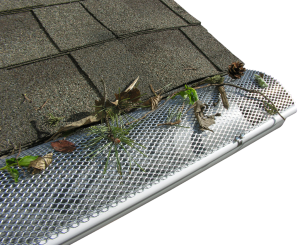 What if you could offer your customers a product that virtually eliminates the need to clean their gutters? That's right – no more climbing ladders, no more getting dirty, and no more clogged gutters. With the
Gutter Guard system
you can do just that. This system is a long-lasting solution to their clogged gutter problems that is both easy to install and easy to maintain. Another reason why customers are loving this system is its low profile. Virtually invisible from the street level below, this system seamlessly attaches to the existing gutter system without being bulky or unappealing.
So how does the Gutter Guard system work? These guards rely on a patented peri-flow filtration system to drain the rain water through the gutters while keeping all other debris out. Air circulation from above and below then dries the leaves and debris sitting on top allowing them to blow away in the wind. These guards are a great solution for any type of climate and virtually any style of home. Read on to learn more about the Gutter Guard Gutter Protection System.
Here are some features of the Gutter Guard Gutter Protection System every professional should know:
– Gutter Guards are constructed of heavy duty mill finish aluminum allowing them to withstand any extreme weather conditions.
– Sure to blend with any home, Gutter Guards are available in mill finish aluminum, white aluminum, and black aluminum.
– Gutter Guards will never rust or distort making them a lasting solution for your customer's needs.
– Keeping the gutters free of blockages, a Gutter Guard system can not only help protect the system from damage but also add years to the life of the system.
– Gutter Guard's water filtration system keeps working even when covered with thick leaves and debris.
– Gutter Guards are a solution for many different types of roof materials and roof pitches.
– Installation is easy – simply rivet or screw the Gutter Guards into the front lip of the gutter.
– Gutter Guard options are available to fit both 5" and 6"
K Style gutters
.
– For an expert finish, all Gutter Guards should be overlapped 1/2".
As one of the nation's leading online suppliers of everything gutter-related, GutterSupply.com is proud to offer this quality product to our customers. We carry both 5" and 6" options along with the material finishes you need to complete the work. As an added value to our customers, we are currently offering 10% off during our October Gutter Guard Sale! Registered contractors can enjoy even higher discounts plus free customized literature. This is just another example of how GutterSupply.com is dedicated to offering the best products at the best prices each and every day.
Have yet to register as a recognized contractor? Click here to sign-up today.
To learn more about our complete line of Gutter Guard products or if you are a contractor interested in the free customized literature program, visit our website or contact us at 888-909-RAIN.