Do you want a gutter system that not only functions better but is easier to clean and maintain? Do you want to save money and time maintaining your gutter system? If so, installing a gutter guard system may be the answer you are looking for.
The Purpose of a Gutter Guard System
Gutter guard systems prevent leaves and other waste from entering the gutters themselves. They top the gutters allowing the water to enter the system while keeping the debris out. Since they reduce the amount of material that enters, gutter guards can also decrease the chance of clogging. And they make the need for gutter sweeping less frequent as the system stays cleaner for longer.
Benefits of Installing Gutter Guards
There are many benefits to installing a gutter guard system including:
Gutter guards reduce the frequency in which a gutter cleaning is necessary saving you precious time during those peak seasons. If you hire a professional to do the job, you will enjoy cost-savings as you can now space your cleanings farther apart.
Gutter guards help prevent clogging in the gutter system. Clogged systems can lead to water penetration in the home including into the basement and foundation.
Gutter guards help prevent roof leaks protecting both your home and what's inside.
Gutter guards protect the gutters lessening their likelihood to sag, loosen and detach from the home. This saves you from costly replacement repairs.
Gutter guards prevent little critters from building nests in the gutters.
Gutter guards lessen the amount of standing water in the system reducing mosquito infestations. This leads to a more comfortable, enjoyable outdoor space.
Endless Options for Each Unique Property
Because no two applications are ever the same, there are many gutter guard options available to fit every need and every budget. There are traditional aluminum gutter guards that rest on the top of the gutters. Also popular are the micro mesh systems which prevent even the smallest debris from entering the gutters. There are lock-on guards, snap-in covers and even drop-in solutions.
Gutter guards are also found in the options necessary to match each unique gutter system. Most brands come in both half round and K style solutions and in 5" and 6" sections. And you'll also find many are available in differing materials and colors so they seamlessly match each property's existing exterior.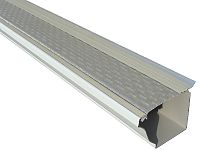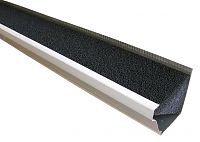 GutterSupply.com offers one of the largest selections of gutter guard systems you will find anywhere!  We are the leading online supplier of all things gutter-related including the newest innovations in gutter protection.  Whether you need a gutter guard, a gutter filter or a gutter screen, we've got you covered.   The best part is all our products are available online.  You can shop from home exploring the many options we carry.  A few simple clicks and you will have the perfect gutter guard system for your unique project delivered right to your door!
If you aren't sure what you need, our experienced staff is available to answer all of your questions.  Visit our website to learn more about the large selection of gutter options GutterSupply.com carries or contact us at 888-909-RAIN.