When most people think of copper gutter systems they picture a traditional shiny non-patina copper guaranteed to age beautifully over time. While this standard is a popular choice for many, others are looking for alternatives for a variety of reasons. For some, the copper penny hue simply doesn't match their current home's exterior. For others, the price of a copper gutter system is too costly. Fortunately there are many products available in the market today that can offer varying color choices and price points.
Traditional Copper Alternatives
Whether constructed of actual copper or another material, there are many options for customers when it comes to creating the feel and look they are looking for in their home's gutter system and accessories.
Copper Penny Aluminum – Copper penny aluminum is a great option for your customers that want the look of copper without the high price tag. This aluminum product is painted to give the appearance of new copper and finished with a high-gloss finish. Constructed of lightweight aluminum, this product will not tarnish or patina and does not require any special polishes and is available in K Style and Half Round.
Designer Copper Aluminum – When looking for a more weathered copper look rather than the shiny and bright "new" look, many turn to designer copper aluminum. Designer Copper Aluminum mimics the next step in the patina process. This popular alternative features a two coat paint finish that closely resembles aged copper. Its texturized surface adds a beautiful dimension, rich appearance, and comes in a dark copper color. This product is also available in K Style and Half Round.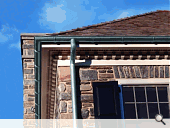 Freedom Gray Copper – For those that like the sustainability and look of copper but prefer gray gutter options, Freedom Gray Copper is a great choice. This product is constructed of sheets of copper coated on both sides with a patented tin-zinc alloy. This practical option fits with many metal applications and offers a long-lasting, durable approach to gutter systems and accessories. Homeowners with light-colored exterior features in their brickwork, stucco, and woodwork also find that this product's runoff staining blends better with the rest of the home than that of traditional copper.
Euro Copper – This half round system features some of the heaviest gauge copper on the market today. Long-lasting and easy to install, this system is solderless and can be found in seamless downspouts, miters, and elbows. Also known as the European Gutter System, Euro Copper Gutters are only compatible with European Gutter accessories.
Whether you are looking for a traditional copper gutter system or one of the many alternatives listed above, GutterSupply.com has what you need. As a leading online supplier of gutter supplies and equipment, we are dedicated to offering the best prices and selection in the industry. Click here to learn more about the huge variety of copper gutter system alternatives GutterSupply.com has to offer or contact us at 888-909-RAIN.