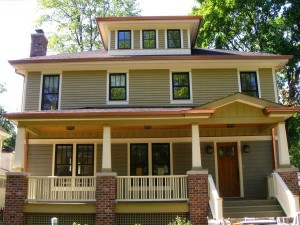 When it comes to rain gutters there are numerous materials for homeowners to choose from.
Many opt for basic vinyl or aluminum as an easy solution for their needs.
Some homes, especially historic or higher end properties, though could benefit from beautiful
copper rain gutters
.
Many shy away from copper as they think it will be too expensive to install.
While cost is an important factor to consider it shouldn't be the
only
one.
It's important for contractors to inform their clients of the many key benefits that a copper rain gutter system can provide.
Only when the customer has all the facts can they make the right decision for their home.
Here are 6 key benefits of a copper rain gutter system:
1. Copper rain gutters are extremely durable.
They can weather many extreme climates and seasons from subzero winters to blazing hot summers.
They also will not weaken with constant exposure to the elements.
Unlike steel, copper rain gutters do not rust or rot and will remain functional for decades to come.
2. Copper rain gutters offer instant interest and appeal.
Through oxidation, copper gutters form a coat of patina over time.
This can create a unique, stunning weathered look in just a couple years.
Many homeowners enjoy the rustic charm of the patina.
3. A copper rain gutter system is long-lasting.
While
vinyl gutters
typically need replacement every 10-20 years, copper gutters can often last up to 100 years.
Often homeowners can recoup the higher initial installation cost of copper with fewer replacements needed over time.
4. This type of gutters require minimal maintenance.
While they still need to be cleared of leaves and debris, they rarely sag, dent or need replacement.
It is important that
copperrain gutters
are professionally installed to ensure they remain securely attached to the building.
5. Copper rain gutters can complement an existing copper roof or other exterior fixtures.
For a seamless look, homes with existing copper installations should consider using the material for their gutter system as well.
Doing so creates a uniformity and beauty to the home's look and appeal.
6. Copper rain gutters can be a great way to help a home stand out in the neighborhood.
Adding a stately appeal, this material choice not only increases the value of the home but can also be a great selling feature when it comes time to put the property on the market.
Whether your customer is completing a historical renovation or simply wants their home's exterior to make a statement, copper rain gutters can be a beautiful, long-lasting solution.
When you are ready to complete the work, visit
GutterSupply.com
for all your copper rain gutter needs.
We carry everything you need to finish the job from downspouts and elbows to fasteners and brackets. We also have a wide selection of ornamental pieces such as gargoyles and gutter medallions to give your customer's homes that finished look.
Visit our
online catalog
to browse one of the largest online selections of gutter supplies and tools.